Former Aweil governor welcomes sacking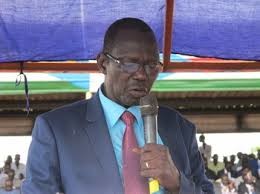 The former governor of South Sudan's Aweil state has welcomed his removal from his position through a presidential order, responding to it with congratulations to his successor.
President Kiir on Thursday removed Governor Yournew Wol Kuot from his position and replaced him with Jal Malith Jal.
Speaking to Radio Tamazuj on Friday, former top state official welcomed the change made by the president saying changes would strengthen unity of the people.
"I wholeheartedly welcome the change made by his Excellency, the President of the Republic, Gen. Salva Kiir Mayardit, and I thank him for the opportunity and trust he gave me to serve the people of Aweil in the capacity of the governor of Aweil state," he said.
"My removal from the office should not be misinterpreted. It is the prerogative of his Excellency to appoint and make changes. Because of this constitutional right of his Excellency, I would like to welcome his decision and congratulate my successor, comrade Jal Malith Jal," he added.