Foreign partners urged to support institutional reforms in Sudan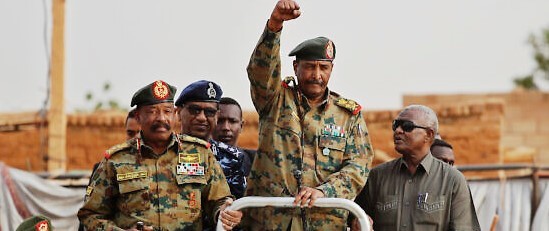 Gen. Abdel-Fattah al-Burhan, head of the military council, waves to his supporters upon arriving attend a military-backed rally, in Omdurman district, west of Khartoum, Sudan, June 29, 2019. (AP Photo/Hussein Malla
Donors and foreign partners should urge Sudan to prioritize justice and legal and institutional reforms in Sudan, even as they focus on the country's pressing economic concerns, Human Rights Watch said today.
On June 25, 2020, a group of governments and multilateral organizations, known as the Friends of Sudan, will hold a partnership conference in Berlin, Germany, to discuss economic support to the country.

"Almost a year into the transition in Sudan, we are seeing too little progress on justice and key reforms," said Jehanne Henry, East Africa director at Human Rights Watch. "Sudan's leaders and its international partners should use the upcoming conference to plan to forge ahead on several fronts simultaneously so that the transition resets the country's governance and rights trajectory."

The Friends of Sudan group, which includes the USA, France, Germany, Britain, Ethiopia, Saudi Arabia, the United Arab Emirates, and Egypt, aims to support democratic transition and economic reforms set out in Sudan's transitional constitution. While delivering urgent support to save Sudan's floundering economy is critical, the conference is also an opportunity to engage with Sudan's reform and justice goals in a holistic and constructive manner, Human Rights Watch said.
Ahead of the Berlin meeting, Human Rights Watch issued a question-and-answer document on Sudan's options to advance justice for serious international crimes. Human Rights Watch detailed the importance of justice for past crimes and the need for reform in Sudanese law and practice that hinder holding those responsible to account.
It urges donors to discuss the expertise and assistance they may have available to support Sudan's efforts to bring accountability for past crimes committed across the country and to press Sudanese authorities to directly engage with the International Criminal Court (ICC) without delay to discuss specific steps toward progress on prosecution of the court's Darfur cases.

In the question-and-answer document, Human Rights Watch recommends that Sudanese authorities begin discussions with the ICC on cooperation, including to bring suspects into ICC custody.
On June 9, one ICC suspect, the Darfuri militia leader Ali Kosheib, surrendered to the ICC in the Central African Republic.
Sudan's constitutional charter calls for a raft of wide-ranging legal and institutional reforms that have not materialized. The authorities have not appointed the transitional legislative council or state governors, or formed critical commissions on human rights, transitional justice, judicial reform, and law reform.