FM Beatrice urges full participation of women in governance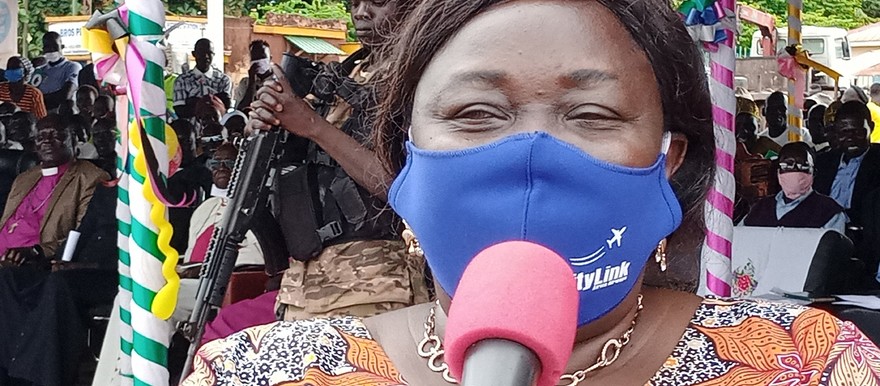 South Sudan's Foreign Minister Beatrice Khamisa Wani addressing a crowd of citizens at Yei Freedom Square on September 12, 2020. (Radio Tamazuj)
South Sudan's Foreign Minister Beatrice Khamisa Wani urged women to participate more in every area of governance, saying the low representation of women in decision-making institutions remains a challenge.
"The women said they wanted 35% representation, but as the minister of foreign affairs, I have seen that women are not applying for positions. For example, my ministry advertised for a position at the African Union for more than a month, and only one woman applied. Women, please let's open our eyes," Beatrice said.
The foreign minister's remarks came during a public gathering in Yei River County of Central Equatoria State last Saturday.
Describing the women's situation as unacceptable, Beatrice called for the more active involvement of women in governance.
Meanwhile, Hawa Adams, a women's rights activist in Yei River County, said women at the grassroots level lack information on their representation and empowerment opportunities.
Hawa called on the governor of Central Equatoria state to ensure that the 35% quota for women's representation is fully implemented to promote women's representation in governance.
"Honorable Governor, we plea that the 35% for women's representation stipulated in the revitalized peace agreement is put into practice because we believe that nothing for us without us. Also, we urge for a practical chance in leadership because women are stakeholders in the implementation of the peace agreement," she said.
Low literacy rates and prevailing traditional cultural roles for women remain ingrained obstacles to their full participation in decision-making processes in South Sudan.
The revitalized peace agreement provides for a 35% quota for women's participation in the transitional government. South Sudanese women hope this key provision will be a catalyst for change in the country.