Floods hit Panyikang County, Upper Nile State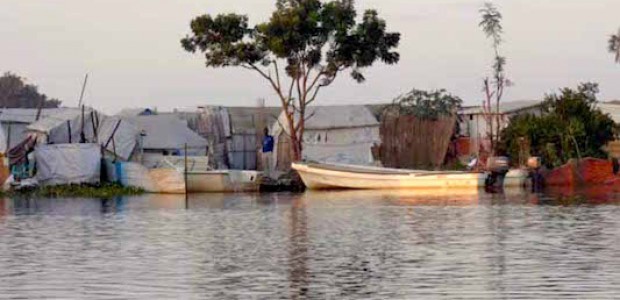 The banks of the Nile River in the Wau Shilluk region, west of Malakal, capital of Upper Nile State, November 2014. [Photo: The Niles]
Fresh floods have hit parts of Panyikang County of Upper Nile State, destroying homes and livelihoods.
The floods started at the beginning of this month, with the areas of Pakang and Pinyiduai hard-hit.
Speaking to Radio Tamazuj on Wednesday, several residents said the floods which started after the overflow of Khor-Arham have destroyed their homes and livelihoods, forcing them to move to higher grounds within the county.
Santino Opieny, a Panyikang County resident, said they lack food and shelter.
"Floods have destroyed farms. These floods come from the bushes and the River Nile through Khor-Arham. For us, we have to abandon our homes. We don't have plastic sheets and mosquito nets. We need help," he appealed.
Another resident, Chol Simon, urged the government and the aid agencies in the country to intervene, saying there will be more suffering if they get no support in the coming weeks.
For his part, Jacob Aru Kuol, the County Executive Director, said the floods destroyed about 2,000 homes in parts of the county since the beginning of January.
"In the area of Pinyiduai, 300 households have been affected. For the Pakang area, we have 1,500 households affected. We do not have figures for the rest of the areas. Now, the displaced stay in the open without food and shelter," Aru said.
The county official also appealed for humanitarian intervention before the situation worsens.
Last week, the state Relief and Rehabilitation Commission warned of a dire humanitarian crisis in parts of Upper Nile due to rising floodwaters in parts of the state.