Floods displace 350 families, destroy crops in Twic state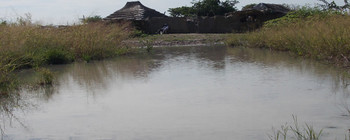 Authorities of Twic state say large quantities of crops have been damaged and over 350 households displaced by flash floods in the past two weeks.
Twic state information minister Teng Deng Riing, told Radio Tamazuj on Wednesday that many homes have been washed away leaving families in dire need of shelter and aid as the rains continue.
"The number of the households on the road that I have just mentioned is 350 households affected and their families' members have been displaced from village to the main road where they are now staying. This applies in other areas of the state, people have been forced to camp on the road," he added.
Deng further noted that sanitation has worsened and infections from water borne diseases such as diarrhoea and malaria have also increased drastically in the past few weeks in all counties across the state.
"Diarrhoea cases and malaria have increased among children. At the west of the state there is currently serious upsurge of the flood and crops have been affected and the whole state is in problems," the minister said.
Deng said on Tuesday they distributed mosquito nets to displaced citizens along Wunrok-Anaar road and they will soon send medicines.
He urged aid organisations to come to their support saying that although the state government is trying its best, they need support to avert a humanitarian crisis in the state.