Flood victims in Terekaka State need assistance: official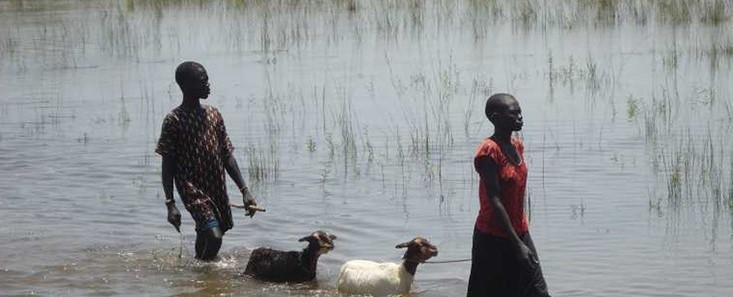 Hundreds of residents affected by heavy floods in Terekeka State are in dire need of humanitarian assistance, a local official said.
Speaking to Radio Tamazuj on Saturday, the state Information minister, Joseph Lado Gubek said heavy rains which started in July have left several families without food as crops were destroyed before they could be harvested.
He further said there is a shortage of medical supplies and basic goods as floods cut off the county from the rest of the state.
"Floodwaters are now dropping, but the effects of floods are still there. Farms in areas of Nyori, Jemeza and Terekeka were destroyed. Also, Tindilo, Gwor, Tali and Tijor areas are completely cut off by floods," Lado said.
"We only get supplies through motorbikes and bicycles," he added.
At least 887 families displaced by floods to neighboring Eastern Lakes State are living without food, according to Lado.
He appealed for humanitarian intervention in the county, warning of looming food shortages in the state next year.
According to United Nations Office for the Coordination of Humanitarian Affairs (UNOCHA), more than 908,000 people have been affected by heavy rainfall and subsequent flooding, of whom 620,000 people need immediate humanitarian assistance.
Last month, President Salva Kiir declared a state of emergency in all the flood-affected areas.