NORTHERN UPPER NILE -
13 Apr 2018
Fire guts IDP houses in Northern Upper Nile state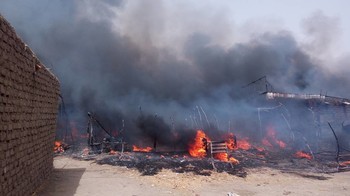 At least 8 homes and personal property of unknown value were burnt to ashes in Khor Addar Internally displaced persons' camp in Northern Upper Nile state on Wednesday evening.
Speaking to Radio Tamazuj from the camp, James Monsur the camp leader said the fire, whose cause is unknown started at around 4:30 pm.
He appealed to humanitarian aid agencies to hastily intervene and assist the affected families who are now left homeless by the fire.
Thousands of IDPs who fled the conflict from Baliet and Akoka have settled at Addar camp since conflict erupted in 2013.