Finance minister suspends undersecretary indefinitely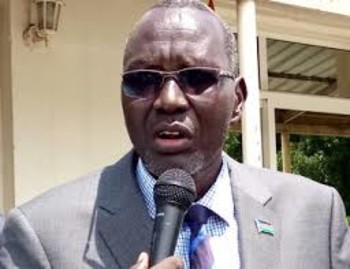 South Sudan's Finance Minister Stephen Dhieu Dau has suspended his first undersecretary Agak Achuil Lual indefinitely from office.
Agak was suspended for allegedly approving payments of 317 million South Sudanese Pounds to a company without involving the minister.
Malith Tap, the director general for finance and administration at the ministry of finance, told Radio Tamazuj on Friday that the suspension was a purely administrative decision to allow a committee to investigate the reasons behind Agak's unilateral action.
"It is not a dismissal. It is a normal administrative procedure to allow the committee which has been formed by the minister to find the reason. If the committee finds that the procedures were right, the undersecretary will resume his duties normally," he Tap.
The ministry, according to Malith, has a committee that approves all payments and both minister and his undersecretary are members.
He said the Central Bank returned the request asking for payment without supporting documents from the committee which should include resolutions of the meeting and signatures of the members of the committee including that of the minister of finance.
"Because this was lacking, the Central Bank saw it is wise to return the document to the ministry of finance. When it was returned to the ministry of finance, the minister found out what the undersecretary was trying to do was outside the procedures which have been established. That was why he decided to suspend the undersecretary and formed the committee," he said.