Fighting spreads into western part of Yei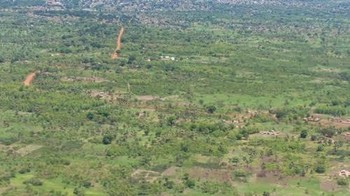 Photo: Aerial view of Yei town (Radio Tamazuj)
Clashes between government troops and opposition fighters in Korguglu area have spread into western part of Yei town towards Otogo County within Yei River State, forcing civilians to flee from their villages.
This comes after the state governor claimed that the opposition forces were repulsed after attempts to capture Yei town on Tuesday.
Local residents in Kagelu, Nyaju, Balamuke, Yembe, Abegi and Mitika villages in Otogo County told Radio Tamazuj on Thursday that there was heavy shelling in their areas.
A resident in Yembe village said heavy mortar shelling and light machine guns could be heard near their houses.
"What I can say is that these soldiers are still fighting. There was heavy shelling and shooting near me and we could hear and see bombs falling near us while others pass beyond us," he said.
"One of the bombs fell directly into my brother's house and good enough we ran into the bushes for hiding. The situation at the moment is not good at all. We are in the bush surviving on fruits and fresh cassava," he added.
Another resident who identified himself as Kani said the sounds of gunshots could be heard throughout Thursday from morning until evening hours after the government troops and opposition forces clashed in their village.
"We here from far along the Korgulu-Lasu main road, there are guns shots. The same fighting reached Mitika and the side of Otogo. We heard that there were dead bodies of soldiers near the main road, but we don't know whether there are some civilians also killed or not as fighting continuous," she said.
She pointed that they were displaced from their homes and pushed into the bush without access to food, medicines and clean drinking water. Kani called on the United Nations and the region to stop the ongoing war in Yei.