Fighting erupts in Yei River state despite Troika warnings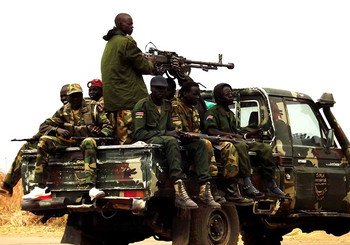 SPLA forces at Malakal airport on January 12, 2014, when the town was under control of South Sudan's army.(The Niles)
The two warring factions in South Sudan, government forces and SPLA-IO rebels on Wednesday blamed each other for carrying out attacks in Yei River State, with both sides confirming fighting resumed this morning in the area.
Clashes between the rival forces resumed barley one day after the United States, Britain and Norway warned South Sudan's warring sides to respect the signed ceasefire deal after reported violations.
The Troika's Tuesday statement warned that field commanders and political leaders will be held accountable for ceasefire violations.
Paul Lam Gabriel, spokesman of SPLA-IO forces, accused government forces of carrying out attacks on their defensive position in the area of Dudulabe today morning.
He pointed out that fighting was still continuing in the area.
Meanwhile, the governor of Yei River state David Lokonga Moses said that the rebels have attacked their defensive positions in Morobo and Kaya areas, but they were repulsed today morning.
The state official claimed that five rebel soldiers were killed during the clashes in the two areas. Lokonga pointed out that the government forces were fighting in self-defense.