Fighting at South Sudan's Mapel army base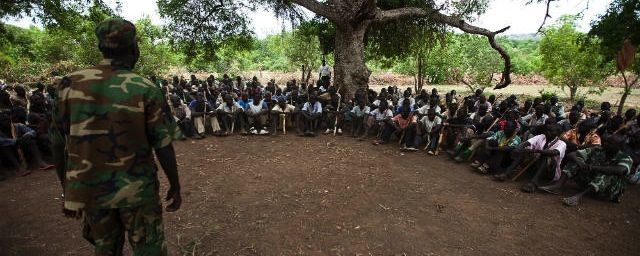 Fighting erupted among SPLA soldiers in Mapel base in Western Bahr al Ghazal on Friday leaving several people dead and causing many others to flee to the bush.
Located in Jur River County, Mapel is one of the largest army bases in the country and the headquarters of SPLA Division 5.
Sources stated that the incident began in Mapel Market, and that at least three people were killed, while reportedly hundreds of trainees ran away, whether deliberately or out of fear.
National Courier reported at least seven people died in the clashes, and also quoted the SPLA spokesman as acknowledging the clashes erupted among trainees "along tribal lines" at the Mapel training centre.
Another report by Sudan Tribune suggested that the scale of the defection was significant. "A military officer, who preferred anonymity, confirmed the outbreak of fighting and claimed over 150 soldiers broke away from the military barrack and fled into the bush," stated the report.
"There was a tension since yesterday when two colleagues within the military police exchanged unnecessary words. It started at the bus park area in Mapel town when one soldier refused to take orders from his superior, creating unnecessary situation and raised security concern for civilians in the area but it was contained by the command," the officer disclosed on Friday.
Sudan Tribune also quoted the former deputy governor, Effesio Kon Uguak, who comes from Mapel, as saying the casualty figure could be higher: "I just heard 10 people have been killed but I don't know on which side they belong."