Fighting among SPLA forces at Wadakona in Upper Nile Thursday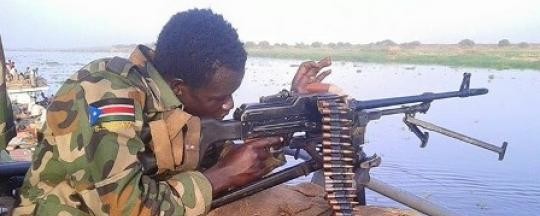 Fighting broke out between SPLA and forces commanded by SPLA-Major General Ayok Ogat in Wadakona in South Sudan's Upper Nile State on Thursday morning.
Ex-militia commander Ayok Ogat, who joined the SPLA army, has recently been in the capital Juba while his forces remained in Wadakona under his deputy Yohanis Okiech.
Johnson Gony Bilieu, SPLA commander of Division Two in Upper Nile said in a press conference yesterday that about 90 forces led by Yohanis Okeich defected yesterday after attacking SPLA positions in Wadakona area around 6:00 am.
He said the same forces then attacked their positions in Thuor Guang, but they were repulsed at 9:00 am. The SPLA general said another attack could be launched by the same group at any time in Upper Nile.
Separately, rebels loyal to commander of the Aguelek forces of Gen. Johnson Olony in northern are still holding a barge at Kaka area along with a number of men.
The United Nations Mission in Sout Sudan (UNMISS) says it is their barge, which was taking fuel to Renk in northern Upper Nile state before being blocked by 100 heavily armed men belonging to the SPLA-IO.
UNMISS said the rebels are still holding 12 South Sudanese UN contractors but released 18 peacekeepers. The mission said the rebels are still holding the barge, fuel, and some of the peacekeepers' weapons.
The mission warned that attacks on UN staff may amount to war crimes and demanded the immediate safe release of the 12 remaining prisoners.
Meanwhile, the rebels claimed to have captured a barge belonging to Salva Kiir's government which was heading to Renk, according to a press statement by Brigadier Nyagual Ajak, a spokesperson for the Aguelek forces.
He said the captured barge was mounted with heavy machine guns and barrels of fuel. He also claimed they found two bodyguards of SPLA commander Stephen Buay, three Equatorian National Security agents in plainclothes, as well as the ship's crew and UN peacekeepers.
Nyagual said there were documents signed by SPLA chief of general staff Paul Malong on board as well. He said area commander Brigadier Paromi Angui ordered seizure of the steamboat. He accused the government of violating the cease-fire agreement signed by the two sides recently.
Nyagual indicated that the government barge was using logos of the United Nations when it crossed Tunga and Kodok areas, which are controlled by the rebels, as a trick to transport weapons to Renk and launch attacks.
SPLA commander Johnson Gong Bilieu denied the rebels claim, saying the barge belongs to United Nations. Philip Aguer, spokesman of the SPLA forces criticized the UN for keeping silent on the captured barge.