FIFA Secretary General completes South Sudan assessment mission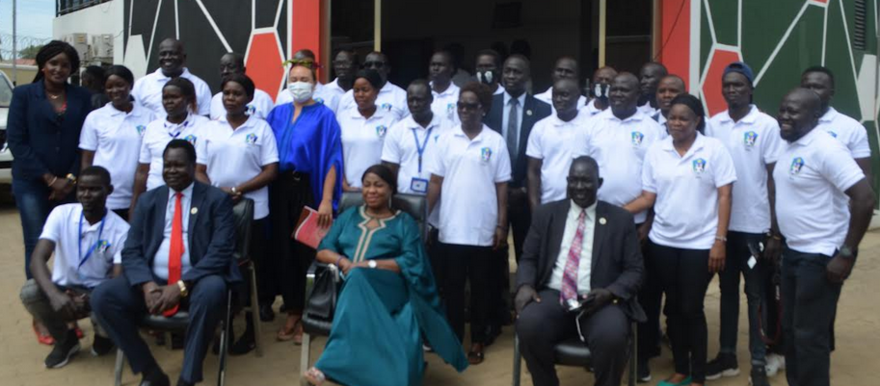 FIFA Secretary-General, Fatma Samba Diouf Samoura, SSFA President Augustino Maduot and other SSFA members outside their office in Juba.
The Secretary-General of the Federation Internationale de Football Association (FIFA), Fatma Samba Diouf Samoura, Saturday concluded a two-day visit to assess the general state of football in South Sudan and also inspect the Juba Football Stadium which is under construction.
According to the FIFA official, the visit was also meant to evaluate the level of football in South Sudan with a specific focus on women's football in the country.
"This mission is part of touring in Africa to meet with the member associations and to discuss with them our usual collaboration. But also to identify the challenges affecting South Sudan football in general and women football in particular," FIFA Secretary General Samoura said.
She added that her delegation inspected the Juba Football Stadium and that it should be ready by the end of the year.
"The discussion also involved a tour of the site of the rehabilitation of the Juba National stadium that is funded with the FIFA forward program. From what we have seen so far, the work is progressing and hopefully, the Juba National Football Stadium rehabilitation work will be completed by the end of 2021 so that we can officially inaugurate the stadium in 2022," she added.
Samoura stressed the need to finish the Juba National Stadium on time as it is the only facility in the country with the capacity to host both international and continental matches.
"The stadium is of critical importance because it is the only one that will be able to host international and continental football matches starting in 2022. So, the sooner we finish, the better it is for all football lovers," she added.
Samoura further said FIFA also plans to improve women's football in South Sudan to enable them to participate in the 2023 world cup.
"The second reason why we are here is also to take note of the level of evolution of women's football. We know that FIFA is already helping for several months the South Sudan Football Association women football committee to redress many issues regarding the technical part of football," Samoura said. "Today we can see that it is a South African coaching South Sudan's women's football team and this is not good for a very big country like South Sudan and has to be corrected. The country should be able to have its national coaches."
For his part, the President for the South Sudan Football Association (SSFA), Augustino Maduot Parek, commended the football governing body's Secretary-General for the visit and promised to abide by the FIFA guidelines.
"The visit is an honor and a privilege for the South Sudan Football Association because she initiated to come and visit us during so many challenges that South Sudan's Football Association is passing through," Maduot said. "In these two days' visit, we have discussed several issues and one of them is to see and inspect the Juba Football Stadium and to see how it can be accelerated to finish so that we can play in it."