UPDATED: Fierce fighting erupts in Raja, governor leads troops in battle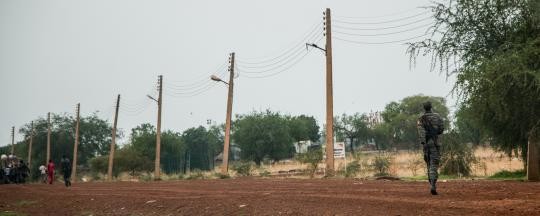 Photo: SPLA soldiers on the highway in Melut town. (Radio Tamazuj)
South Sudanese rebels allied to former First Vice President Riek Machar have launched a major offensive on Raja town, the capital of South Sudan's Lol State this afternoon and government forces have responded, according to a local official.
Lol minister of information Omar Isahaq told Radio Tamazuj this afternoon that the attack came from three directions, saying Governor Rizig Zachariah Hassan is now leading SPLA troops in battle within Raja town.
"People are now scattered and the governor personally is the one commanding the forces. The governor has just gone to the military barracks," said Sa'eed.
He pointed out that the fighting is continuing. "Now I cannot give you more details because the clashes are continuing, so let's wait until the situation returns to normal, I am now inside Raja town, we have been besieged," he Isahaq.
Meanwhile, a local resident in Raja town said he was hearing the sounds of gunfire near the military barracks. "I am now inside my house near the market. The fighting started around 2:00 pm, we don't know what happened, I am now hearing the sounds of guns," he said.
A pastor, who is a local resident in Raja town, said: "I cannot hear anything now because of gunshots, I am now on the run, I cannot talk now, I will talk later."
Rebel officials in Raja town could not immediately be reached for comment.
UPDATE,14 April 2017: Sources from Raja have confirmed that the government forces have taken full control of Raja town this evening.
CORRECTION: The name of the state information minister mentioned previously was incorrect.The correct name is Omar Isahaq.