Feature:University graduate embarks on agriculture in Jonglei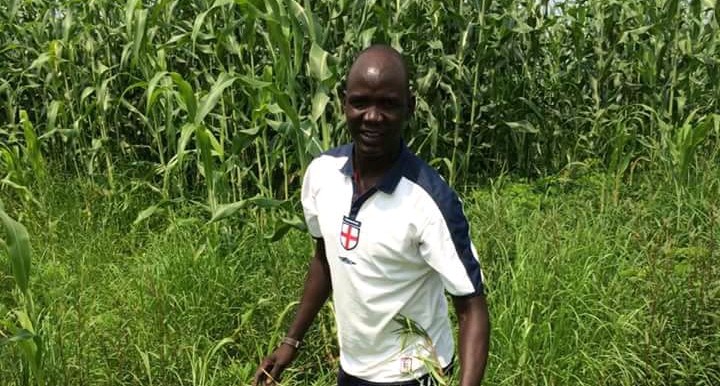 Photo:Abel Majur stands in his farm.jpg
A 35-year old man has defied popular youth belief that for them to succeed they have to either work for government or Non-Governmental Organizations in South Sudan's Jonglei State.
Abel Majur, a graduate of Information Technology from Moi University in Kenya decided to venture into agriculture after three years of applying for jobs without success.
Majur told Radio Tamazuj that he had to find a source of livehood for himself.
"After I returned home from Kenya, I stayed for three years without any job. So, as a young man, what should I do?" he asked.
Majur said that out of frustration he started farming and devoted the little savings he had into a farm that has sustained him till now.
"I started with only 500 dollars I earned from software installation and computer repair in Bor town. This money I used for hiring a tractor. In 2015, I cultivated only eight hectares of land. But crops failed due to drought. I only harvested 34 bags of sorghum," he said.
However, the first crop failure did not discourage the young farmer. He now owns 16 hectares of sorghum plantation, located in Anyidi, an area about 12 kilometers from the state capital Bor town.
Majur says he has not only been able to make profit but has also employed people at his farm.
"There are 11 people working on my farm, 3 females including two young men from Eastern Lakes State. I pay each 12, 000 SSPs per month," he said.
The farmer says he is now reaping the fruits of his labor as his production has improved over time, saying he earns a sizable income.
"Now, the farm is doing well. In 2017, my production was 72 bags of which 62 was bought by Oxfam. Annually, on average, I earned over 6, 000 USD and I save at least 12 bags of sorghum for family consumption and the rest I give to church," he explained.
Majur says he hopes to expand his farming activities with the sole aim of creating a food secure region, averting a looming hunger in northeastern Jonglei. In July, the South Sudan Relief and Rehabilitation Commission announced that 1.2 million people are in dire need of humanitarian assistance in greater Jonglei.
He called on South Sudanese youth who are idle and waiting for white collar jobs to venture into agriculture, saying it pays and helps to eradicate hunger.
"Most of youth now are idle. They should try agriculture. Through agriculture we can eradicate poverty and we will be exporters of food crops. Our land is very fertile. So we should not wait for white collar jobs. Now, I am proud of myself and this work," Majur advised.
He further urged the government to provide agricultural skills and encourage those interested in farming.
For his part, Jonglei State governor Philip Aguer said the state government will support local farmers by creating market for their surplus produce.
"We promise that whoever will excel and they have a surplus product, the ministry of agriculture will try to find market for them. We coordinate with FAO so that surplus is bought as seeds by FAO. This will help local farmers access hard currency so that they buy whatever they want," Aguer said.
He added that they have started training and providing tractors to those who can afford to fuel for farming.
"Agriculture should be number one in South Sudan, not oil. Oil comes with many problems such as pollution of air and earth. Agriculture is the only tool for development," he said.
Since independence in 2011, South Sudan has relied heavily on oil proceeds to run the government. According to the country's bureau of statistics unemployment rate stands at 40 per cent.