ADJUMANI/UGANDA -
19 Oct 2021
Feature: South Sudanese refugee girl aces Ugandan national exams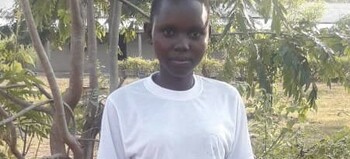 Guo Gladys Victor at Majji Refugee Camp, Uganda. [Photo: Radio Tamazuj]
The determined 18-year-old refugee from Majji Refugee Camp in Adjumani District scored an aggregate of 17 in the best done eight subjects in last year's Uganda Certificate of Education (UCE) exams.
Guo Gladys Victor got to know of her achievement on 30 July 2021, after the results were released by education and sports minister, First Lady Janet Museveni. The results showed overall improved performance with boys beating the girls generally, but the former outshining their female counterparts across the board.
The girls, however, performed better than boys in the English Language. Guo was part of this statistic and was the best girl in Adjumani District.
On performing well, a beaming and confident Guo told Radio Tamazuj, "I worked very hard and I also had encouragement from my parents. They were not able to pay my school fees and they were suffering. So I looked at their situation and decided to work hard to stop their plight and help them in the future."
Guo scored an impressive 7 aggregates in the Uganda National Examinations Board (UNEB) administered Primary Leaving Examinations (PLE) in 2016 and was sponsored by the Jesuit Refugee Service (JRS) for her Ordinary Levels at Comboni Comprehensive College in Adjumani District.
"My parents were not able to pay for my personal and scholastic requirements. They were unable to support me due to lack of money and sometimes I would report to school one week late," Guo narrates. "I used to go back to the refugee camp during holidays and make pancakes and local cakes called mandazi and sell them and I would earn some little money for buying scholastic materials and other needs."
For her Uganda Advanced Certificate of Education (UACE), Guo says she applied to go to Seeta High School which performed the best in the country in the last national examinations.
"My first option is to do science courses during my Advanced Level and in future do a graduate course in medicine or agriculture," Guo plans.
She advises fellow school-going girls to work hard at school.
"My message to them (girls) is that they have to work hard. When I joined secondary school, the boys were performing better than the girls in our class," Guo explains. "Then, I decided to work hard and show that girls can also perform better than boys in school. So, the girls should not have the mentality that boys are better than them. There is nothing like that. All of us have the same brains and girls should just work hard in school."
Guo's Teachers
The headteacher at Comboni Comprehensive College in Adjumani, Yeka George Koma, said Guo was brought to the school to start her secondary school by a relative without school fees.
"Guo was brought to the school by a relative who did not introduce herself but she just said that she heard about some sponsorship opportunities with Windle Trust International and wanted her to be a beneficiary," the headteacher explains. "She did not come with any school fees but when I looked at her Primary Leaving Examination results, I knew she was a promising girl. So, we decided to admit her with the hope that she would get sponsorship, failing which the school would take care of her. That is how she got to be enrolled in the school."
Headteacher Koma says they considered Guo as their daughter and put her under the charge of the bursar and the deputy headteacher to take care of and guide her.
"Guo started to show signs of improvement in her results due to the constant guidance and counseling from the school," Koma recounts. We also introduced some competition for each class involving the eleven subjects they studied and the condition was that if you can score 900 out of 1100 marks, then the school gives you a bursary. Those already with bursaries were given gifts by the school."
According to the headteacher, the school, fortunately, managed to get the girl a scholarship which he thinks played a role in her good performance because she had no school fees.
"She continued to maintain her good performance and leading position and we were able to give her some gifts in the form of scholastic materials like books, pens," Koma says. "Another reason why she performed very well was due to constant follow up by me and the teachers and we set her a target right from when she joined secondary school. We told her the kind of results expected of her that she must work hard to achieve them. We would assess her performance every term and see if she has achieved the target and see ways of improving."
The headteacher proudly says his protégée was among the best in the northern region of Uganda.
"In Adjumani district, she was the second-best student and best female candidate in the region. The best student in the district was a boy," Koma says.
He added: "My message to the refugee community is that they must take the education of the girl child seriously. It is very important because South Sudan needs a lot of manpower. One of the areas they should consider of importance is girl child education. Secondly, I am not advocating that they should give the girls luxurious things, but they should try to provide for their basic needs like stationery and sanitary towels."
The headteacher says he was a bit disappointed because he believes Guo could have performed even better.
"I was expecting Guo to get something like aggregate 10 but I came to discover that she had less support from her parents. If it was not because of the staff, Guo would not have performed well at all. So, we need the parents to also support in terms of counseling and guidance," Koma says.
According to the headteacher, the refugee students and particularly the girls are interested in studying but face a lot of challenges.
"They are interested in learning but face financial challenges. In the past, there was sponsorship for all refugees but this time they select very few to sponsor which is killing the future of many of these young refugees," Koma explains. "Guo's performance was partly affected by the school closure occasioned by Covid-19. They were at home for almost seven months and that had a big impact. She however still managed to perform well."
Guo's mother speaks about her
For her part, Guo's mother, Acayo Cicily Taban, says she struggled to get an education for not only Guo but her other siblings and encouraged them to read hard and perform well.
"It was difficult because I was alone and had no support. When the war broke out in 2016, we came to Morobi Refugee Camp in Obongi district but we were separated and Guo went to Majji Refugee Camp in Adjumani where she managed to get the chance to study at Comboni," Acayo says. "JRS supported by paying her school fees but I had to struggle to provide other things like personal necessities and scholastic material."
Acayo says she would help her daughter make pancakes when she would come home for holidays which the latter would go around selling to get money for her school requirements.
"She is a very good and well-behaved child by the will of God. I have two other girls and they have all been performing well. They are all at home at the moment because schools have been closed due to Covid-19," Acayo states.
According to the mother, "Their father is there but we separated when the girls were still young. Also, he had an accident and was taken for treatment and surgery but suffers from depression now. He is not sound so he cannot help us much."
Acayo says she cannot afford the exorbitant fees Seeta High which her daughter wants to join for her Advanced Levels, prompting the latter to burst out in tears.
"I want all the mothers in the refugee camps and South Sudan to encourage their children to go to school," Acayo says in a parting shot. "The practice of marrying off girls when they are still young is not good. They should also work hard to provide for the basic needs of the children. Parents should not send their children to do work that exposes them to negative behavior."
The Education Minister, Janet K Museveni on Friday 30 July released the 2020 Uganda Certificate of Education (UCE) examination results citing improved performance in candidates, despite the Covid-19 pandemic effects.