Fatima, Sudan's first female presidential candidate, dies at 74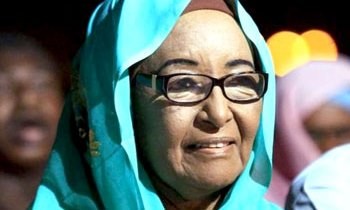 Photo: Late Fatima Abdel Mahmoud
Fatima Abdel Mahmoud, who in 2010 became the first woman presidential candidate in Sudan, died in London at the age of 74, Sudan government said on Sunday.
Late Fatima was born in Omdurman in 1944 and became the first woman to hold political office in Sudan in 1973.
Abdel Mahmoud studied medicine in Moscow, Russia, in 1967. She was awarded a master's degree in Public Health in Russia in 1971.
In 1973 Abdel Mahmoud was appointed Deputy Minister of Youth and Social Affairs. Abdel Mahmoud also served in parliament for 10 years.
She became leader of the Sudanese Democratic Socialist Union party and was also a member of the Shura Council of Sudan Women's Union.
She obtained a master's degree in Pediatrics, Family Health and Women's Development from Columbia University in 1984.
She stood again in the 2015 general election, where she came a distant third in the presidential election and her party gained no seat in the national legislative assembly.
She taught at several international universities and established the Gulf Company for Petroleum Consultancy in Abu Dhabi in 1987.
Abdel Mahmoud served as the UNESCO Chair for Women in Science and Technology.