EASTERN LAKES -
3 Sep 2018
Farmers decry poor infrastructure in Eastern Lakes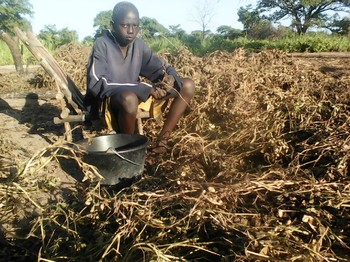 Farmland in Annuol County of Eastern Lakes State
Farmers in South Sudan's Annuol County of Eastern Lakes State complain of poor infrastructure making them unable to access markets for their farm produce especially during the ongoing rainy season.
Annuol County Commissioner Deng Loi told Radio Tamazuj on Sunday that farmers are always forced to either sell their produce at throw-away prices or lose it all together.
Majak Nai, a small scale farmer in Annuon said since he came to the county 3 years ago after being displaced, he has been able to farm about 46 fedans but has no access to markets due to poor infrastructure.
Another farmer Makur Anyuat said Annuol has very fertile soil and they are able to produce a lot of food. But he says they still need help and support from national and international agricultural agencies to assist them with farm tools and seeds.
Commissioner Loi also said other challenges facing the farmers include lack of enough water sources.
"There are many small scale farmers doing their very well but the only challenging factor is the inadequate water sources, no bore holes in the farms that far from homesteads. And if there is possible help from the government of Eastern Lakes State in conjunction with their partners, this community needs quick help," he urged.
Meanwhile, the commissioner also called on aid organizations to provide aid to the people of Kath-thier who were attacked by armed men and displaced from their homes without any access to any humanitarian aid.
Annuol County is a newly created counties bordering Amadi and Terekeka States.