FAO, UNMISS launch community mapping exercise in Wau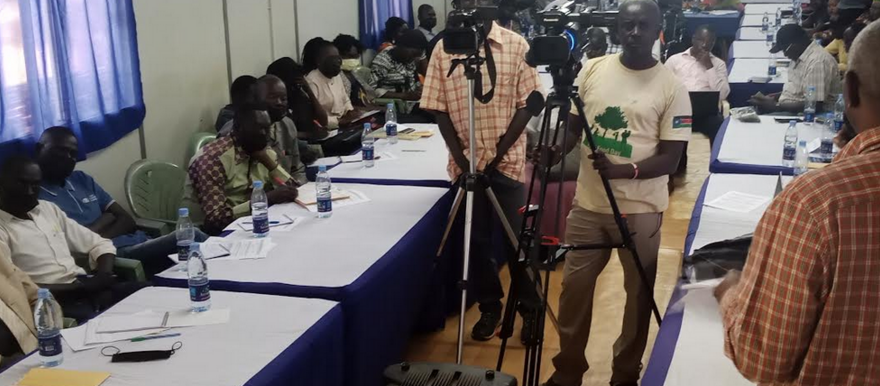 A cross-section of the people attending the workshop. (Radio Tamazuj photo)
FAO and the UNMISS on Wednesday launched a community mapping exercise to identify potential areas for a developmental work plan in Wau, Western Bahr el Ghazal State.
The plans include injecting agricultural assistance, livestock protection, and provision of clean drinking water in residential areas within Wau town and in the three counties.   
Speaking during the opening session, Sam Muhumure, head of the UNMISS Field Office in Western Bahr el Ghazal, said the exercise will especially target Internally Displaced Persons (IDPs) who are willing to voluntarily return to their homes.     
"We did a mapping of different activities by the different partners and we also developed a joint area work plan," he explained. "However, we all did not complete our task to know what the untapped potential that each institution has, whether you are a chief, payam administrator, a business leader, a representative from the ministry, you all have the untapped potential."
Muhumure urged Wau residents to attend the two-day workshop with clear work plans that can enable the agencies to identify needs.  
For his part, Arkangelo Augustino Futur, the state minister of animal resources, fisheries, and tourism, called for a need to prioritize farming to fight hunger and pave way for development in the state.
"This year the state has been listed the third in food security, we want to increase the production with any kind of support from FAO in form of tools and seeds," he said. "In this workshop, we have all the components of the civil society and the government, and if they sit together to come out with a way forward, I think this year the state will be listed the first in the country."
About 70 participants were selected from all walks of life including from the three counties of Raja, Jur River, and Wau to attend the workshop to develop an area activity work plan for the state.