FAO official in Yei urges govt to stop fighting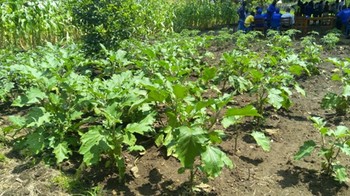 Philip Fong, the emergency coordinator for the United Nations Food and Agriculture Organization (FAO) in South Sudan, urged the government to stop the war and embark on peace and stability to enable development and investment in the agriculture sector.
Fong said an interview with Radio Tamazuj from Yei town on Sunday that there are many donors and investors who are ready to undertake development projects in South Sudan, but they can only invest in peaceful and stable regions.
"We have to ensure that there is security in the area. What we hope to do is to bring back food security. As that moves on, there is security in the region, then we will come to help in resilience and development based projects for instance capacity building, investment on local infrastructure and things that make this region a food basket for South Sudan," he said.
Fong revealed that the head of the Catholic Church, Pope Francis has donated USD 25,000 to support dry season vegetable production in Yei River State, an initiative he said aims at fighting poverty and food insecurity among vulnerable populations in South Sudan.
Jean Saima, a farmer in Yei River State, said insecurity in the state has caused them huge losses as they could not harvest 8 acres of land they had planted.
"We have lost all our seeds because of the war, including coffee and cassava have been set on fire. We, the women are able to produce grains through a cooperative society and women became very strong in the village but our efforts have been lost," Saima said.
Dara Elisa, the program manager for the United Methodist committee on Relief-UMCOR, an International NGO supporting farmers with farm tools and seeds said insecurity has prevented his organization from supporting thousands of farmers trapped in the rural areas of the state.
"One of the challenges we meet is the huge demand. We have ten thousand households who cannot be supported in the dry season production. We want the authorities to see that the security and the environment are conducive," he added.
Catharine Juan, minister for agriculture and forestry in Yei River State, said the government is working to restore peace and stability through local dialogue and hence boost agricultural development.