Faltering peace deal risks return to violence: report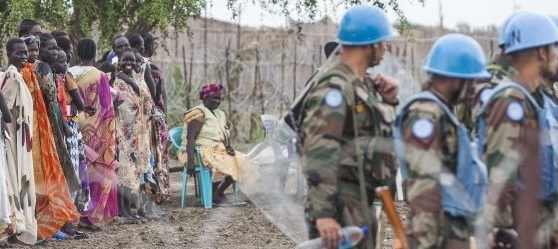 A UN Protection of Civilians Site (POC) in Malakal. Photo credit: IOM/Bannon 2015
Failure to address critical issues in the revitalised peace deal could restart the devastating violence of recent years and displace even more people, a new report has warned.
The report by Refugees International "No Confidence: Displaced South Sudanese Await 'Real Peace " says failure to address critical issues, including relocation and disarmament of soldiers and disenfranchisement of ethnic minorities, could restart the devastating violence of recent years and displace even more people.
The new report on South Sudan by Senior Advocate for Human Rights Daniel Sullivan stated that a year after South Sudan signed a peace agreement to end the country's devastating civil war, a staggering one-third of its population is still displaced.
Few feel safe enough to return home, and the situation remains dire, according to the report released on Thursday.
It calls on the government and opposition leaders of South Sudan to implement the peace agreement, pointing out that little of it has been fulfilled even while a November 12 deadline to form a transitional government looms.
The report urges the government and opposition groups to prioritize the cantonment of soldiers, integration of armed forces to reflect ethnic diversity, and settlement of state boundaries to avoid disenfranchisement of ethnic minorities
It also calls on the parties to the peace agreement reach a political agreement on former Vice President Riek Machar's permanent return to Juba.
The organization advised the international community to pursue a robust, coordinated, diplomatic effort to engage South Sudan's leaders toward the creation of a transitional government by November 12, and further implementation of the peace agreement.
It also called for further analysis by UN and NGO actors on the issues of population movements, intentions, and barriers to returns to better plan for returns and avoid manipulation of those returns for political purposes.
The United Nations Mission in South Sudan on Wednesday said a transitional unity government should be formed by 12 November as originally planned, pointing out that there should be no more extensions.
The 2018 peace deal brokered by the East African bloc IGAD reinstates opposition leader Riek Machar as first vice-president, one of five vice-presidents.
Last year, a study by the London School of Hygiene and Tropical Medicine estimated that at least 382,900 South Sudanese died as a result of the country's civil war.