Faith-based groups launch Covid-19 awareness campaign in N. Bahr el Ghazal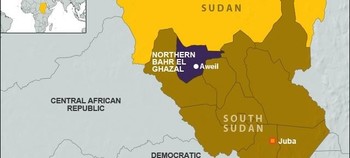 Leaders from the Council of Churches and Islamic Council in Northern Bahr el Ghazal State launched a two-month awareness campaign among citizens on the dangers of COVID-19.
The campaign seeks to ensure residents adhere to the safety guidelines issued by the country's Ministry of Health.
Speaking at Tuesday's launch of the occasion, Kerubino Kolong Nuoi Deng, a leading member of the Council of Churches in the state said they collaborated with their counterparts from the Islamic Council and mobilized communities to follow COVID-19 guidelines.
He said the awareness campaign will take place in all the five counties of the state, urging all citizens to continuously pray to God.
"The campaign will last for two months. The Council of Churches and the Islamic Council in Northern Bahr el Ghazal State have collaborated to inform our citizens about the risks of COVID-19 so that people distance themselves. That is why we, the religious leaders, are ready to educate the population to ensure the use of face masks and washing hands. Let us all hold prayers so that God may take the disease away from us," Kerubino explained.
For his part, Ibrahim Deng Akook, the Secretary-General for the Islamic Council said the campaign was initiated to prevent the spread of the coronavirus pandemic.
"We are starting awareness campaigns against coronavirus among citizens in Northern Bahr el Ghazal State because the disease is a world threat. That's why we came up with the campaign. As spiritual leaders, it is our obligation to protect people," he explained.
Deng urged the local communities to work with religious leaders to ensure that people follow the Ministry of Health guidelines.