Factcheck: False Tweet circulates online that US has removed Sudan from list of countries sponsoring Terror
Screenshot of a false Twitter post extracted from online:
An image of what appears to be a Tweet by Donald Trump has been circulating online claiming that US has removed Sudan from the list of countries sponsoring terror. This post was false. However, the U.S. president Donald Trump recently tweeted that the country is currently in the process of doing so, if Sudan will comply with an arrangement of compensating US terror victims.
The post which has since circulated on private WhatsApp groups was also shared here on this Facebook page.
Radio Tamazuj found that the image being circulated does not come from the official Donald Trump Twitter account, but rather from a non-verified account that is no longer active on Twitter.
The post states that the US president Donald Trump tweeted "Happy to announce that's our administration has decided to remove Sudan from the list of states sponsoring terrorism CONGRATULATIONS SUDANESE PEOPLE"
The claim was false; Sudan and the Trump administration are still negotiating on the possibility of lifting the sanction.
The US government listed Sudan in its State Sponsors of Terrorism in 1993 after accusing al-Bashir's government of supporting "terrorist" groups rendering the government ineligible for debt relief and international financial support.
However, on Monday, 19 October, President Donald Trump tweeted from his legitimate Twitter account that Sudan will be lifted from the state sponsors of terrorism list once they pay $335 Million to compensate US terror victim.
"GREAT news! New government of Sudan, which is making great progress, agreed to pay $335 MILLION to U.S. terror victims and families. Once deposited, I will lift Sudan from the State Sponsors of Terrorism list. At long last, JUSTICE for the American people and BIG step for Sudan! " his tweet read.
The widely circulated false post is not from a verified Twitter account; it lacks the blue badge that Twitter awards users after a successful verification process. As well, in the widely-circulated Twitter post, the Twitter handle of Donald Trump is spelt wrong. It shows @realdonoldTromg while it should read @realDonaldTrump. A grammatical sentence error is also seen on the screenshotted post. Twitter has since deleted the @realdonoldTromg account. The image circulating is not linked to an active Twitter account.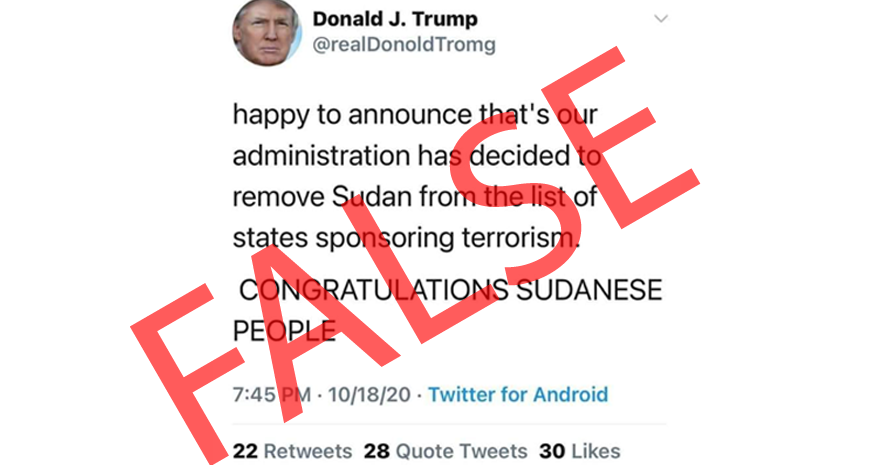 While this means the statement was not posted by the official Donald Trump account, such an image has the potential of misleading users.
The false post got an engagement of more than 15 shares and several comments of users who were certain the tweet was true.