Factbox: Agreement on security arrangements in South Sudan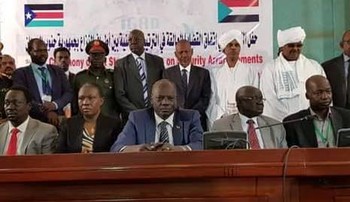 South Sudan government and the opposition reached an agreement on Friday on the transitional security arrangements dossier to end the ongoing conflict in the country.
Below is a summary of the signed deal:
The permanent ceasefire
-The parties agreed that the signed ceasefire agreement on June 27 shall be observed.
-The prisoners of war and detainees shall be released immediately under the supervision of the ICRC
-Free movement of citizens, commodities and services shall be guaranteed.
-Humanitarian corridors for relief shall be opened.
-No revenge, vengeance or retribution and any kind of violation of the signed ceafire is allowed.
-A process of healing and reconciliation shall commence at the beginning of the pre-transitional period and shall include all forces and affected people.
The pre-transitional period
-The pre-transitional period shall start on D-Day and continue up to the completion of the training and deployment of the necessary unified forces shall be completed within a period that shall not exceed eight months.
-During the pre-transitional period all civilian centres shall be demilitarized.
-All forces shall be cantoned under the supervision of the current monitoring bodies at their present barracks and sites.
The transitional period
-The transitional period of 36 months shall start on completion of redeployment of necessary unified forces, or on the expiry of eight months whichever takes place first.
-Training of the unified forces of the military, police and other security services shall start at the beginning of the pre-transitional period according to the requirement of each force or service. Forces shall be trained together to ensure coherence and harmony.
-On completion of training forces shall be deployed at different levels and sizes.
-Throughout the transitional period training of personnel selected for the military, police, security and other services shall continue. Programs of DDR shall continue for ineligible personnel.
-Building of the national army, police, security and other services shall be completed before the end of the transitional period.
-By the end of the transitional period the national army and organized forces shall be redeployed throughout South Sudan pursuant to the plan laid down by the Strategic Defence and Security Review Board.
Mechanisms of security arrangements
-The JDP shall be formed at the levels of chiefs of staffs to exercise command and control over all forces.
-Mechanisms of minoring and verification shall be formed.
-Half members of the Joint Transitional Security Committee (JTSC) shall be from the TGoNU and the other half from the opposition groups. Eight of the party members of the JTSC shall be from TGoNU, five members shall be from the SPLMA-IO and three members shall be from SSOA. Decisions of the JTSC shall be adopted by consensus.
-The current monitoring and verification mechanism shall be restructured and reconstituted into the Ceasefire Transitional Security Arrangements, Monitoring and Verification Mechanism (CTSAMVM). It shall be led by Sudan and Uganda.