FACT CHECK: Was VP Igga rushed to hospital in Egypt?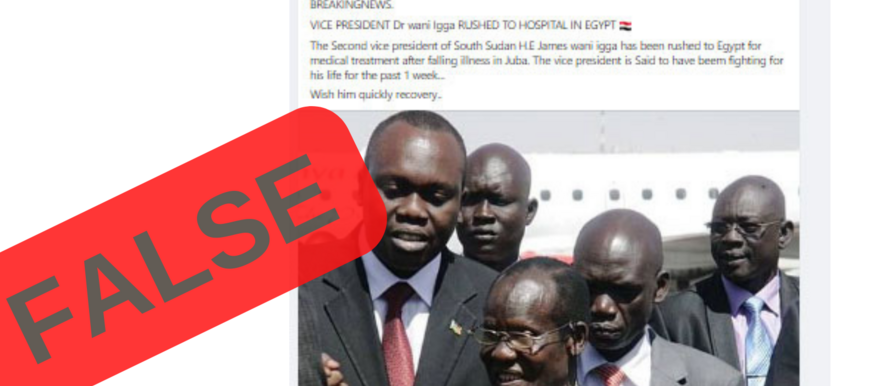 Photo: A screenshot of a false post from a Facebook page
A post was circulated on Facebook with claims that South Sudan's Vice President, Dr. James Wani Igga was rushed to Egypt for treatment after weeks of ailment. This post is FALSE. The Vice President travelled to India to participate in the 17th CII-Exim Bank conclave on the India-Africa project partnership.
The claim was posted on this Facebook page and has been shared 18 times, receiving more than 605 comments. 
"BREAKINGNEWS.
 VICE PRESIDENT Dr wani Igga RUSHED TO HOSPITAL IN EGYPT 
 The Second vice president of South Sudan H.E James wani igga has been rushed to Egypt for medical treatment after falling illness in Juba. The vice president is Said to have beem fighting for his life for the past 1 week.. Wish him quickly recovery," this post claimed.
South Sudan's Information Michael Makuei Lueth said that the Vice President for Economic Cluster, Dr. James Wani Igga was attending a conference in India and termed the rumours as that of wishful thinkers.
"Wani is in India to attend a conference. This came from wishful thinkers who wish for VP Dr. James Wani to be sick, but Wani Igga is not sick," Makuei told Radio Tamazuj.
On Tuesday this week, the Indian Ministry of External Affairs, on its official page, welcomed Vice President Dr. James Wani upon his arrival in India through a Facebook post.
"Warm welcome to Vice President James Wani Igga of South Sudan on his arrival in India for participating in the CII-EXIM Bank Conclave. Another step towards deepening the bilateral partnership between India and South Sudan," the Indian Ministry of External Affairs said in a Facebook post.
The 17th CII- EXIM Bank Conclave on India-Africa Project Partnership was launched in the year 2005 to encourage Indian companies to establish and grow their footprints in Africa. 
This year's CII-EXIM Bank Conclave on India Africa project partnership took place between 19-20 July.
A similar false post was also posted here. As Radio Tamazuj has ascertained that this is false and fabricated. Such a post has the potential of misleading the public in such a way.
If you have claims that needs verification, please send it to our email or our pages on Facebook and Twitter.