FACT CHECK: Journalist Garang John still in custody, family says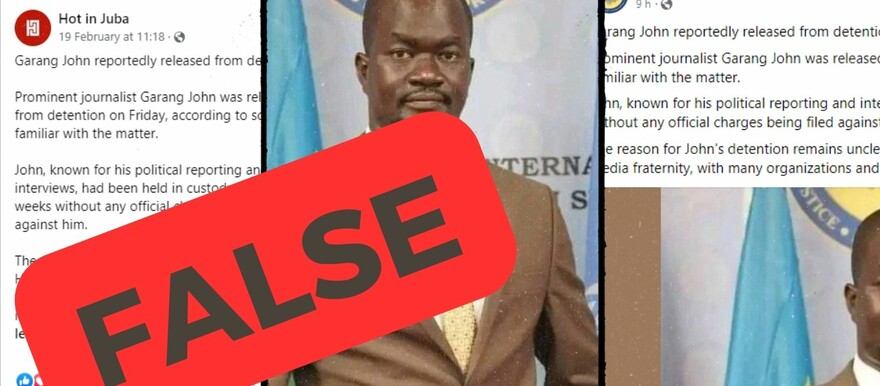 Image: Screenshot of a false Twitter post extracted from online
A post has been circulating across Facebook with claims that a South Sudanese Journalist, Garang John, has been released from detention; the post is false. Garang John is still in custody, according to his family members.
Garang John, a South Sudan Broadcasting Corporation (SSBC) journalist who is assigned to work with the Ministry of Foreign Affairs, was arrested in the capital Juba, was arrested on January 16th, 2023, under unclear circumstances by the National Security Services operatives. 
His arrest came barely two weeks after the arrest of six SSBC journalists for allegedly leaking a video clip widely circulated on social media in December, which appeared to show the country's president in an embarrassing situation.
Two weeks ago, three of the detained journalists were released and four remained in detention including Garang John, a lawyer who preferred anonymity due to the sensitivity of the matter told Radio Tamazuj.
However, on February 19, a thread of mixed posts on different Facebook pages claimed that Garang John was released. In one post, more than 177 South Sudanese shares received 1000 comments.
"Garang John reportedly released from detention.
 Prominent journalist Garang John was released from detention on Friday, according to sources familiar with the matter.
John, known for his political reporting and interviews, had been held in custody for several weeks without any official charges being filed against him.
The reason for John'sJohn's detention remains unclear. His arrest had sparked outrage among the media fraternity, with many organizations and individuals calling for his immediate release," The post claimed.
Speaking to Radio Tamazuj, a close family member of Garang John said he was fine and still in custody. 
"Garang John is still in custody, we visited him. He is fine and has not yet been released," his family told Radio Tamazuj. 
While press freedom is under threat in South Sudan, journalists have faced numerous threats from security and unknown persons. Such a misleading post is a threat to journalists both active and in custody and should be treated with utmost caution before publishing or sharing. 
Radio Tamazuj seeks to debunk misleading information in South Sudan. If you have a claim that you would wish to be verified, please get in touch with us via contact@radiotamazuj.org.