Exclusive: South Sudan rebels clash at Hamra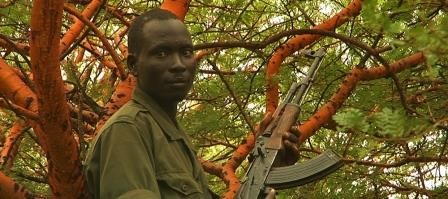 Fierce fighting among anti-Juba militia broke out yesterday morning at al-Hamra in the Sudanese border state of White Nile.
Internal divisions among the groups opposed to the government of South Sudan have heightened since a deal between Khartoum and Juba committed each country to cut off support to rebel proxies.
A reliable source in the region told Radio Tamazuj that militia forces under Commander Onyek Ogweti entered into fierce battles at Hamra with forces under the command of Gen. Philip Digin affiliated to Gen. Gordon Kong Chol.
The clashes came after Gen. Kong's forces expressed their willingness to return to South Sudan in response to the general amnesty issued by President Salva Kiir.
The source affirmed that there were a number of fighters killed and injured in the event but could not obtain an accurate number.
Meanwhile, farther south in Upper Nile State, a leader in the faction of General Johnson Olony confirmed the arrival of forces to Fashoda area after responding to the amnesty order.
On Tuesday the SPLA Spokesman Col. Philip Aguer told reporters that Olony abandoned his revolt and came with a force with 38 vehicles and weapons into western Upper Nile where they were received by SPLA at Lul and Kodok.
John Adong Ading, a leader in the Olony faction, told Radio Tamazuj yesterday that 4000 troops arrived in the area of Fashoda while nearly 2000 remain behind in the areas where they were stationed before.
He said that their revolt had been about protecting their land, not about opposing the state of South Sudan. He said they were prepared to join peace talks without pre-condition. Also he called on Kiir to accelerate the formation of committees to have dialogue over their integration into state institutions.