Exclusive: Pag'an says Bashir's oil comments 'passing cloud'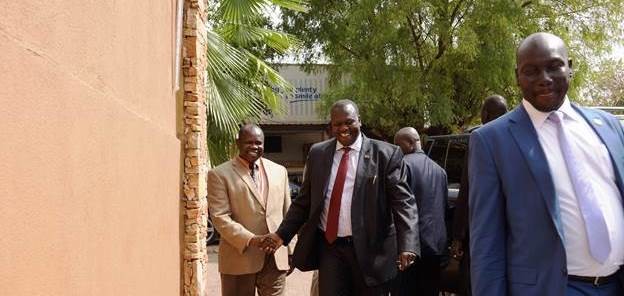 South Sudan's chief negotiator with Sudan and secretary-general of the ruling party Pag'an Amum Ukec has downplayed recent statements by the Sudanese president and other officials as a "passing cloud," affirming that the flow of oil will continue.
Last week during the fight to retake Abu Karshola from rebels in South Kordofan the Sudanese president threatened to end the cooperation agreement with Juba and cut off the oil flow. "I now give our brothers in South Sudan a last, last warning that we will shut down the oil pipeline forever if they give any support to the traitors in Darfur, South Kordofan and Blue Nile," President Bashir said on state television.
In an interview with Radio Tamazuj, Ukec noted that such statements could have a negative impact on the signed agreements with Sudan. He argued that this will not help in finding a solution to the problems which are facing Sudan. But he predicted that it would not disrupt the flow of oil.
Instead of blaming South Sudan, the northern government should take responsibility for its own internal conflicts and find an amicable solution that satisfies all parties, Ukec said. He said that many factors in the northern rebellion are the same ones that led to the secession of South Sudan two years ago.
The politician also denied that the visit of the South Sudanese president to Japan had any connection to Bashir's statements. Last week President Kiir traveled to Japan where he met with the head of the infrastructure company Toyota Tsusho, which has offered to build a pipeline from Port Lamu to Juba.
"There is no relationship between Kiir's visit to Japan and Bashir's statement at all," he said.
He explained that Kiir's visit was planned before Bashir's statement and at the invitation of the Japanese government. He pointed out that the plan for constructing an oil pipeline from Port Lamu was in progress since 2011.
Ukec added that South Sudan is seeking alternatives to the northern pipeline in order not to depend on a single strategic option.
File photo: Pag'an Amum (left) arriving at an SPLM Political Bureau meeting with Vice President Riek Machar (center), March 2013 (SPLM)