Exclusive: Brother of slain chief describes Abyei attack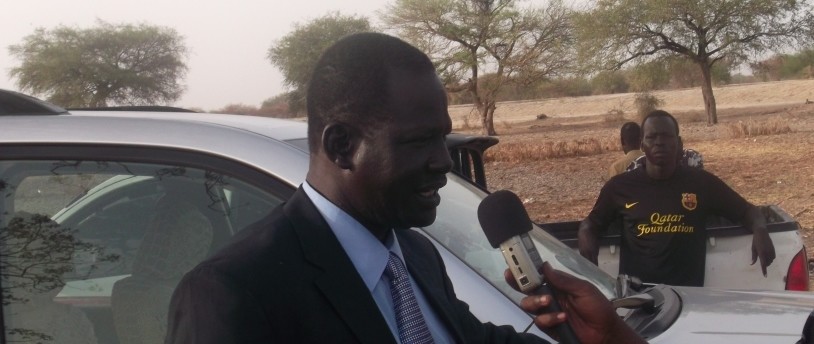 Riing Deng Kuol, a survivor of the attack in Abyei on Saturday and brother to the late paramount chief Kuol Deng Kuol, says that the attack was carried out by an organized force of dozens of gunmen.
Speaking to Radio Tamazuj on the morning after the incident, Riing said that he was part of a delegation of Ngok Dinka chiefs and members of the Abyei Joint Oversight Committee who were traveling under escort by the UN Interim Security Force for Abyei (UNISFA).
Alongside the paramount chief were a number of other leaders including the commander of UNISFA Yohannes Tesfamariam and the deputy co-chair of the oversight committee Deng Mading. The group went north from Abyei town to Tajalei and then Diffra, where they stayed about 30 to 40 minutes.
On the way back the convoy was initially halted by a small group of Misseriya men between Diffra and Goli. "We were coming back from Diffra when we were stopped by one gunman and with him two others (unarmed)," he said.
Negotiations ensued as gunmen held the convoy there for several hours. "From 1:30 p.m. till about 7:00 p.m. we were just stopped as UNISFA and the chief were trying to negotiate with the group – but they failed," he recalled.
Riing explained that his brother met his death when a larger group of gunmen arrived and opened fire on his car.
"After some time came more than 100 or something – 150 or 160 or 170 armed men – well organized and they started opening fire at the car that the chief was sitting in," Ring said. He said the force was organized and noted that the attackers also had mortars.
The eyewitness claimed that the chief was the first person to be shot and that he was the target of the initial gunfire. During the shooting a peacekeeper was also killed and two were seriously wounded.
Ring pointed blame at Khartoum as he said that the forces that carried out the attack were organized and he believed were sent by Khartoum. He said that no one can say what will happen in the future now about the killing of his brother.
Photo: Sultan Kuol Deng Kuol being interviewed in Abyei, March 2013 (Radio Tamazuj)