Ex-minister wants Taban removed from VP position in new government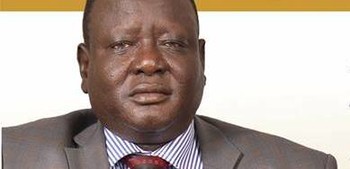 File photo: Gen. Gathoth Gatkuoth
The ousted labour minister has turned the heat on his ally turned foe in the defunct SPLM-IO faction Taban Deng Gai in what promises to be a political rivalry in Juba.
General Gathoth Gatkuoth, who was dismissed last week after differences with the first vice president Taban Deng Gai, told Radio Tamazuj that he objects to President Kiir's choice of the current first vice president Taban Deng to serve as vice president in the upcoming unity government on grounds that he is from Upper Nile region.
As part of the signed power-sharing deal, Kiir will remain president and opposition leader Riek Machar will return to Juba as the first vice president, one of five vice presidents. Kiir is allowed by the new peace deal to appoint two vice presidents from his SPLM faction.
The former minister claimed he was removed from government after calling for regional balance and ethnic representation in the upcoming government under the new peace deal.
"I proposed that there should be regional representation and ethnic representation in the new government and Taban was unhappy with it," Gathoth said.
"Four out of the vice presidents will be from Upper Nile region. As a minister and one of the leaders in South Sudan, I said Riek Machar will be representing Upper Nile region and Wani Igga will represent Equatoria and the fourth vice president should be given to Bahr el Ghazal region. Kiir is representing the people of South Sudan as President of the Republic," he added.
"Otherwise, I said the fourth vice president can be given to the other sections of Nuer because Taban Deng and Riek Machar are from Bentiu area. Both of them cannot be there in the presidency at the expense of the other Nuers. "
It is not clear if the objection will scupper Gai's appointment as Vice President in the new transitional government.
Separately, the removed minister renewed his loyalty to President Salva Kiir and vowed to support his efforts for peace in the country.
Gathoth accused the country's First Vice President of plotting to stir up sedition in greater Nasir area, while criticizing his leadership style. "Since the president is there we will work together with him because he is the final person," he said."Taban used to marginalize us in the decision making process in the SPLM-IO, so we didn't know what was happening."
Gathoth, who hails from Nasir area, admitted that he had called on the Nasir youth to support him instead of the First Vice President Taban Deng Gai.
First Vice President Taban Deng Gai could not immediately be reached for comment.