Ex-bodyguards of Malong distances himself from rebels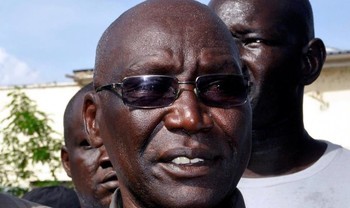 File photo: Paul Malong addresses the media after returning to Juba, May 13, 2017. REUTERS.
A former bodyguard of the exiled former army chief Paul Malong has denied any links with Malong's associates who joined rebels in Northern Bahr al Ghazal region, and reports that he is planning to join them.
South Sudan government on Monday declared Paul Malong a rebel after audio tapes leaked on social media, alleging that Malong agreed with Kuol Athuai and Manut Yel Lual to attack government positions in Northern Bahr al Ghazal.
The government alleged that the two rebel officials said in the audio tapes that defectors headed by Malong's former bodyguard will join them soon.
Speaking to Radio Tamazuj on Monday, Deng Deng Ngu said he was not planning to rebel against the government, denying reports that he was associated to the new dissidents.
He pointed out that he left Juba after President Salva Kiir ordered bodyguards of Malong to reports to their respective units.