Ex-army chief leaves Juba, arrives in Nairobi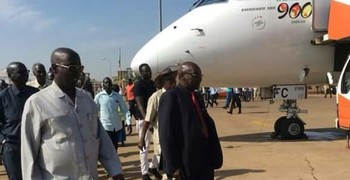 South Sudan's former army chief Paul Malong arrived in the Kenyan capital, Nairobi this afternoon after he was officially released from house arrest by President Salva Kiir.
General Paul Malong had been under house arrest in Juba on fears he might leave the capital and launch a rebellion against Kiir's administration.
President Kiir and his former military chief Paul Malong reconciled, a week after a tense standoff in Juba threatened to escalate into violence. The reconciliation happened Thursday at a prayer service at the president's residence in Juba where Malong said he had no intention of staging a revolt against Kiir's government.
A relative, who preferred anonymity, told Radio Tamazuj that the former army chief left for Nairobi. He pointed out that the incumbent military chief James Ajongo Mawut also boarded the same plane to Kenya.
"Malong left Juba around 10:00 a.m. and he has already arrived in Nairobi. He was received by his son Anei," he said.
Malong was seen off by several government officials and community elders who resolved the military tension in Juba. He had boarded Kenya Airways flight.