Ethiopian leader meets Bashir, Abdelrahim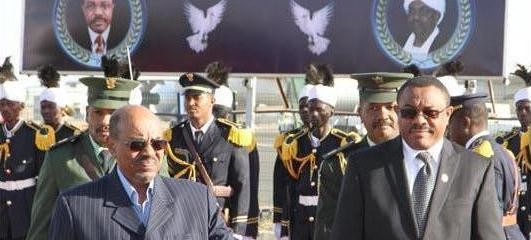 Ethiopian Prime Minister Haile Mariam Desalegn visited President Omar al-Bashir and his Defence Minister Abdelrahim Mohamed Hussein on Wednesday.
Desalegn's government had played host to negotiations that led to the September agreements between Sudan and South Sudan. These 'Addis Ababa' agreements were finalized after a meeting between the Sudanese and South Sudanese leaders in a hotel room in the Ethiopian capital.
Implementation of the package deal has stalled, bringing the two countries back into conflict along the border region between Darfur and Bahr el Ghazal (in the 'Mile 14' area) and preventing the resumption of oil production.
The two leaders al-Bashir and his counterpart Salva Kiir were supposed to have met again at a summit in November or early December, but the planned meeting never happened. The reasons for the delay were never made entirely clear, whether it stemmed from diplomatic tensions, political developments in Khartoum or the health condition of the Sudanese president.
Ethiopia's foreign ministry on Wednesday released a statement explaining that Desalegn's visit was "part of the efforts to coordinate and facilitate face-to-face discussions between the presidents of Sudan and South Sudan."
"The aim is to encourage the leaders of the two countries to complete consultations on unresolved outstanding issues including the status of Abyei and the implementation of the Addis Ababa Agreement particularly on the details of the 14 miles Temporary Security Zone Arrangement," it added.
After the meeting on Wednesday President al-Bashir announced that he was ready to meet Salva Kiir "anywhere and anytime," a concession that suggested that the Ethiopian leader was successful in the immediate objective of his visit.
Desalegn was scheduled to travel to South Sudan on Thursday.
The foreign ministry statement noted that the Joint Political and Security Mechanism (JPSM), a committee chaired by Abdel-Rahim and his South Sudanese counterpart John Kong Nyuon, will meet next on 13 January 2013.
"There is a broad consensus among partners that facilitating a direct discussion between the presidents of the two countries would pave a way for greater optimism in the outcomes of the upcoming JPSM discussion. Prime Minister Hailemariam and African Union High-Level Implementation Panel Chairperson, Thabo Mbeki, have taken the lead initiative to facilitate the face-to-face discussion between the two leaders," the ministry statement read.
A South Sudanese diplomatic source, however, earlier this week downplayed rumours of an upcoming summit. Mayen Dut, the South Sudanese ambassador in Khartoum, denied that his country is in talks with 'external bodies' in order to arrange for a presidential summit.
In a speech at St. Matthew's Catholic Church in Khartoum on Christmas Day, the ambassador disclosed that he discussed the matter with Foreign Minister Nhial Deng who denied that there were any plans for such a meeting.