Endley's lawyer prepares appeal as family seeks Ramaphosa's intervention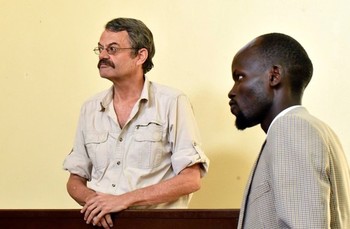 William John Endley stands in the dock as his Lawyer Gar looks on, in the High Court in Juba February 13, 2018. REUTERS
The defence lawyer of the South African national John William Endley who was convicted to death last week by a court in Juba on multiple charges including espionage said he is ready to appeal against the court's ruling, citing procedural malpractices in the handling of the case.
Endley who is also a former colonel in the South African National Defence Forces had been rebel leader Riek Machar's advisor until he was arrested by national security in August 2016 and charged with espionage, conspiracy to overthrow the government and supplying weapons.
Speaking to Radio Tamazuj, Endley's lawyer, Gardit Abel Gar, said, "I will appeal as soon as I get a copy of the judgement. I was there yesterday and today it is not yet typed. I have drafted my appeal but I have not submitted it until I get a copy of judgement."
Abel said due process was not followed by the high court. "The decision was based squarely on make-up evidence produced by national security without collaborating it, the defence witnesses were not compelled to appear by the court when they turned hostile. And even the constitution provides that in serious offences including treason, it's an offence that an accused should not be allowed to have a lawyer," he said.
The lawyer lamented at the fact that his client appeared several times before the court without any defense lawyer and witnesses not being cross-examined by a defense lawyer.
Above all, Abel said, the sentence is contrary to the spirit of the cessation of hostilities agreement signed by all warring parties binding them to release all political detainees and prisoners, "As soon as the government signed the ceasefire agreement, they should have withdrawn the case," he said.
Meanwhile, Endley's family has written to South African President Cyril Ramaphosa asking for his urgent intervention in the matter which they describe as unfair.
Endley's sister Charmaine Quinn told the African News Agency (ANA) on Monday that the family has suffered immense financial and emotional anguish that has taken an enormous toll on their 77 year-old mother.