Embassy denies Kenya rejected high-profile South Sudanese patients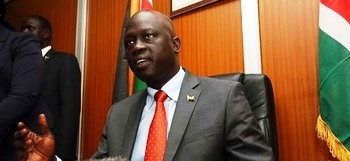 South Sudan's Ambassador to Kenya Chol Ajongo
South Sudan Embassy in Kenya has denied reports that the Kenyan government rejected seven high-profile South Sudanese patients, who were to be admitted at Nairobi Hospital.
On Sunday, South Sudanese authorities had indicated that a critically ill patient would be evacuated to be treated in Nairobi. This came after the government reported the first case of COVID-19.
Speaking to Radio Tamazuj on Wednesday, South Sudan's Ambassador to Kenya Chol Ajongo Mawut denied claims that the government of Kenya turned away seven high-profile South Sudanese patients.
"What is circulating on social media is not true. The South Sudanese embassy has no information about what is circulating on social media bout seven South Sudanese patients," he said.
According to Ambassador Ajongo, Kenya has given permission for a South Sudanese national to seek further treatment at Nairobi Hospital.
"I can only confirm one person who has been allowed to be evacuated from Juba to Nairobi. The person had been receiving treatment in Nairobi before the closure of airports and borders due to the new coronavirus, and his illness has nothing to do with coronavirus," he explained.
In a letter to South Sudan Embassy on April 6, Kenya's Ministry of Foreign Affairs said Malek Kuoc Mayom, a former deputy minister of transport, would be allowed into their country to seek specialised treatment.
The ministry said no passengers are allowed to accompany the patient as they will be placed under mandatory quarantine facility for 14 days.
South Sudan's healthcare system is fragile – under strain in some areas, totally collapsed in others.