Eight opposition groups form new alliance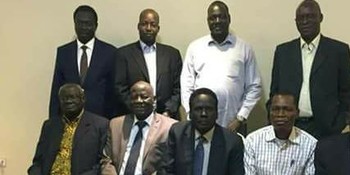 Eight South Sudanese opposition groups that participated in the second round of the revitalization process in Ethiopia said on Thursday they had launched a new alliance.
Signatories of the opposition alliance included Gabriel Changson, leader of the Federal Democratic Party, Thomas Cirillo, leader of National Salvation Front, Lam Akol, leader of South Sudan's National Democratic Movement, Hakim Dario Moi, chairman of PDM, Bapiny Monytuil, chairman of SSLM/A, Bangasi Joseph Bakosoro, chairman of National Movement for Change, Costello Garang Ring, leader of South Sudan Patriotic Movement, and Peter Gatdet Yak, chairman of South Sudan United Movement.
In a statement seen by Radio Tamazuj, the groups said they agreed to formalize and operationalize an alliance in order accelerate efforts to restore just and durable peace, democracy and to preserve human rights and the fundamental democratic rights of the people of South Sudan.
The alliance further said it wants to meet the challenge of restoring the integrity and unity of the people and ensure a radical political, economic and security transformation.
"This cross- party agreement is a recognition of the importance of pulling together our political and military resources in the service of our people," the statement reads in part.
"By appending our signature to the Charter of the South Sudan Opposition Alliance, we are sending a strong and an inspiring signal to our suffering masses and our friends around the world that we, as stewards of the aspirations of our people, are serious about our responsibilities to rescue South Sudan from total disintegration, to restore peace and dignity to our people and ensure an equal, fair and empowered citizenship ready to make a real difference for future generations," adds the statement.
The alliance left out the opposition group led by the country's former first vice president turned rebel leader Riek Machar.