JUBA -- By Yobu Annet -
30 May 2013
Eight border points to be opened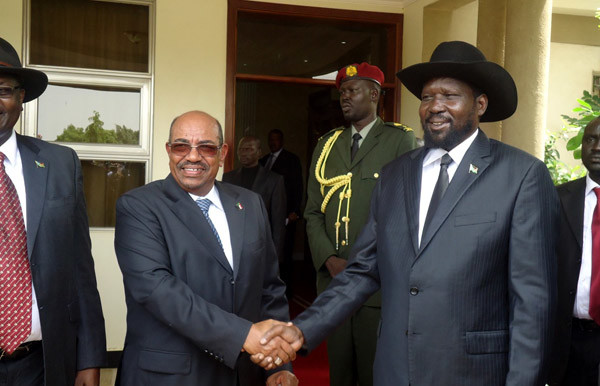 Eight of the eleven border points identified between the border areas are to be opened immediately. The Presidents of Sudan and South Sudan have agreed on activating the committee that will work on restoring these border points.
The Joint Political and Security Mechanism (JPSM) which is shared on both sides by the Ministers of Defence will be tasked with addressing this issue. President Salva Kiir and his Sudanese counterpart Omar al Bashir have reached a positive agreement that the JPSM will immediately be dispatched to the border area of Tashwin and Joda to implement this issue for trade to flow and people to move freely across the border.
This area has had a problem in terms of fixing the exact location of the border posts. Translating the coordinates that are on the map of the AUHIP on Tashwin and Joda has not been easy, even with the involvement of UNISFA that was tasked to monitor the border area.
However, the South Sudanese Minister of Foreign Affairs Nhial Deng Nhial reported that based on these difficulties, it has now been decided that the level of engagement of this particular issue be raised and that the joint political security mechanism be tasked with addressing it. "With regard to this issue the government of South Sudan is ready to send its delegation so that these problems can be resolved", he said.
In another development, South Sudan will continue to recognise the inherited traditional rights of the Arab nomads. They may always enter the region for pasture and water.
Speaking at the AU Summit, the President strongly underlined the need to respect the rights of the host communities. He said whenever the time comes for the nomads to withdraw and cross back to into Sudan, they tend to engage in criminal activities such as raiding of cattle and stealing property from host communities.
"We want to ensure that the host community is well protected", he said stressing that the nomads should not enter South Sudan armed because of security issues.
File photo: Presidents Kiir and Bashir (gurtong.net)