Egypt's intelligence chief meets with Kiir in Juba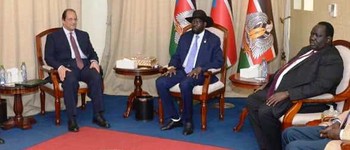 Egypt's intelligence chief Major General Abbas Kamel met with South Sudan's President Salva Kiir in Juba on Tuesday, Al-Ahram Arabic website reported.
Kiir and Kamel discussed bilateral relations and ways to boost mutual cooperation.
Kiir expressed his appreciation for Egypt's support, especially the medical aid Cairo sent to Juba during the flood season.
Kamel also met with South Sudan's first Vice President Riek Machar and congratulated him on the peace deal, assuring him of Egypt's backing of permanent peace and stability in South Sudan.
The head of Egypt's General Intelligence Service also met with South Sudan's presidential advisor for security affairs, Tut Gatluak, and director general for the country's external security bureau, Thomas Duoth.
Kamel had visited Khartoum on Monday where he met the head of the Sovereign Council, Abdel-Fattah El-Burhan, and expressed Egypt's support for Sudan's counter-terrorism efforts.
The visit comes a day after a failed assassination attempt against Sudan's Prime Minister Abdalla Hamdok.