Egypt's foreign minister arrives in Juba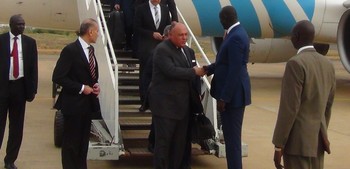 Egypt's foreign minister Sameh Shoukry has arrived in the South Sudanese capital Juba today morning in a visit that aims to boost bilateral cooperation and discuss a number of regional matters.
The visiting official was received at Juba Airport by the Minister in the Officer of the President Mayiik Ayii Deng.
The Egyptian foreign minister is scheduled to meet several top South Sudanese officials, including President Salva Kiir, and will engage in talks with the national dialogue committee, which Egypt is keen on supporting.
In November 2017, Egypt mediated the signing of a declaration of unification between two factions of the ruling South Sudan People's Liberation Movement (SPLM) at the headquarters of Egypt's intelligence agency headquarters in Cairo.
The document stipulates supporting peace efforts to end the dispute between the rival factions and the return of refugees displaced by conflict.