Economic fallout, floods blamed for rising cost of living in Jonglei, citizens cry for help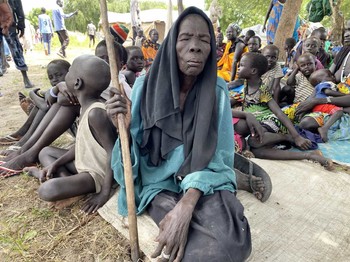 A blind woman displaced by floods sits and waits with a group of children while others cook in Duk County, Jonglei, South Sudan, 24 September 2020. [Photo: OCHA/Anthony John Burke]
Residents in parts of Jonglei State say it is increasingly becoming difficult to survive. Economic fallout and floods have been blamed for the rising cost of living.
For months now, Jonglei has been hit by a humanitarian crisis due to the combined effects of inter-communal violence and floods coupled with soaring basic commodities prices.
Speaking to Radio Tamazuj, several citizens in Jonglei State, said they struggle to survive as floods destroy livelihoods and forced prices to sharply skyrocket.
As of this week, a sack of sorghum sells at 16,000 SSP, an increase from 5,000 SSP before floods. A bag of wheat flour jumped from 15,000 SSP to 25,000 SSP, while a kilo of beef rose to 2,800 SSP from 1,200 SSP, and 25 kg of beans increased from 7,500 SSP to 16,000 SSP.
Achol Majok, a resident of Bor Town, said she is unable to meet her family needs as the depreciating value of the local currency (SSP) worsens the already existing floods-induced hardships.
Achol, a mother of 5, said she has been left hopeless.
"My husband works as a driver between Juba and Bor. When COVID-19 appeared in April, his work was affected, but later as they resumed, floods and insecurity became another problem. Now, he is jobless," she said. "I was left to cater for my children through little money I get from my handworks. But now 5,000 SSP or even 10,000 SSP does not have any value at the market."
Another resident, Deng Alier, said he could not afford any item with a salary of 2,000 SSP. "Sometimes it does not come on time. It comes after a month or 3 months. People belong to the government. There should be an intervention. We should not be left to suffer," he stressed.
But for Abdalla Ali, a businessman in Bor, the price hike is reasonable, saying it will help his grocery shop in Marol, the main market in Jonglei State capital, Bor.
"In my grocery shop, prices have gone up. Two months ago, a 50 kg sack of maize flour was 10,000 but now it sells at 15,000 SSP. The increase is caused by the dollar exchange rate, floods, and poor roads. We bring goods using boats and boats are very expensive. We are charged 5,000 SSP per ton. So the prices automatically rise," he said.
Another businessman, Mabior Kuol, said he is hopeful that prices will drop as the Juba-Bor road reopens in the coming months.
"We use boats to carry goods to Bor. Per a ton, we are charged 14,000 SSP or 15,000 SSP. We also spend money during the loading and offloading of goods. But as the road dries and becomes passable in November, prices may drop," he said.
In Pigi County, Muonygok Arop, a resident there, said civil servants have not been paid since March this year.
"In the county, we received basic goods from Malakal. A sack of sorghum here is 16,000 SSP. No one affords it. Salaries have not been paid since March, and even only a few people get paid. Not everyone. Life here is difficult," he lamented.
Arop, a government employee, appealed to the aid agencies in the country to intervene.
According to the country's Relief and Rehabilitation Commission (RRC), thousands of people have been affected by floods in parts of Jonglei, and they could face serious food shortages if not supported.
James Khan, a resident of Akobo County, said people are hungry because floods have destroyed livelihoods in the county.
"From Bor to Akobo is flooded. Over the last two months, there were inter-communal clashes. No one cultivates. So now there is hunger because of floods. If there is peace now, the situation will improve," he stressed.
Khan appealed to the government to fully implement the 2018 peace deal so that lives return to normalcy.
Meanwhile, Samuel Kangach, the Secretary-General of the Chamber of Commerce in the defunct Fangak State, said the market lacks goods for weeks as floods cut off the county from the rest of the state.
"Traders fear supplying goods because of insecurity, multiple taxes, and extortions at some points along the Nile between Bor and Fangak," he stressed.
He added, "We are affected by the same floods in Ayod County. It could be better if the government and its partners empower locals with things like fishing nets so that they are able to make food for themselves."
For a resident, who identified himself only as Simon, the government must restore peace in the country for lives to return to normalcy.
"Before the crisis of 2013, no one complained of hunger. Security was stable and goods flow through our borders. Those in the villages were busy on their farms. The dollar was not even talked about. But now in Jonglei, if you are to farm, you get killed in the field. The government must implement the 2018 peace deal and restore security," he noted.
For his part, Joseph Kuir, the head of the Chamber of Commerce and Agriculture in Jonglei, also admitted that there is a price hike due to floods. He pointed out that the price hike could be handled if the government empowers the local traders.
"Give us the priority to have the hard currency. Secondly, the ministry of trade must stock all the states with goods for them to have standard price control. The other point is that we need loans. No business thrives without loans," he said.
Duom Kuol Ager, the acting state Secretary-General expressed optimism that prices will drop as soon as the economy stabilizes. He, however, claimed that situations remain calm despite the current economic hardship.
Meanwhile, Dr. Akim Ajieth Buny, an associate professor of economics, policy, and public administration at Dr. John Garang Memorial University of Science and Technology, warned that hunger and displacement are likely to hit Jonglei in the coming months if the current economic trend continues.
"Only a few people may remain. Most people will go to Mangalla, Lakes, or Uganda. And this will even increase the level of insecurity in the state," he stressed.
For the current economic meltdown to be tackled, Dr. Akim said: "There is a need for political will to solve this problem. Engage people with skills who are not part of the government like academics to solve this problem. One thing I proposed is the creation of a national economics advisory board council to be tasked with coming up with strategies and approaches to addressing this problem. Changing the currency is not a problem, but it should be the last resort when everything is in place," he advised.