Ebola screening centers set up in Yei despite porous border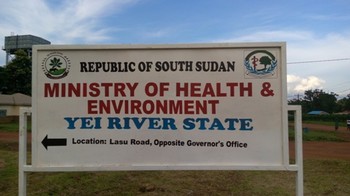 Health officials in South Sudan's Yei River State have set up four Ebola Screening Centres along the South Sudan-Congo border as part of emergency preparedness and response while the virus remains a major health risk in the region.
Doctor James Wani, the director general in the Yei River State ministry of health told Radio Tamazuj that out of fifteen entry points along the South Sudan-Congo border, only four screening centers have been established, cautioning that the porous entry points remain a major threat.
Wani said through the support of the World Health Organization and other health partners, the ministry plans to establish more screening centers along the border.
"We have fifteen entry points from Congo into Yei River State but that the moment we have set four centers and these centers are in Kaya, Okaba, Morobo, Yei , and Yei civil hospital. In these screening camps, we are screening people who are coming from Uganda and Congo," he added.
The health official further said that a massive public awareness campaign is underway in churches, schools, door to door, through radio talk shows to sensitize the communities about Ebola.
He appealed to the local population to report any suspected cases of Ebola to the nearest health facility for immediate attention.
According to World Health Organisation, as of 6 November 2018, a total of 308 cases, including 189 deaths have been reported in eight health zones in North Kivu Province and three health zones in Ituri Province. WHO also mentioned that the risk of the outbreak spreading to other provinces in Congo and neighboring countries including South Sudan and Uganda remain high.