Eastern Lakes declares three days of mourning over deadly plane crash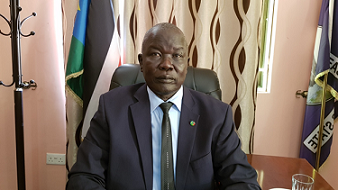 File photo: Eastern Lakes governor Mangar Buong
The governor of South Sudan's Eastern Lakes state Mangar Buong has decreed three days of mourning after 19 people were killed in the country's tragic plane crash.
"Following the crash of the plane today around 8:30 am, killing 19 people… I declared three days of mourning and the flag will fly at half-mast in the state," the governor said in a statement obtained by Radio Tamazuj.
He confirmed that 19 passengers including six women and four foreigners were confirmed dead after the chartered aircraft crashed into a river in Yirol town. Mangar said that three people including a foreign national survived the plane crash.
"The survivors are three, including an Italian national who was working as a doctor in Yirol here," he said.
"Two crew members were Sudanese nationals," he added.
The top state official expressed condolences to families of the victims.
The Anglican bishop of Yirol diocese Simon Adut Malek and two senior military officers are among the dead, according to Governor Mangar.
The cause of the crash remains unclear and an investigation is underway.