E. Equatoria State information minister urges journalists, artistes to be ethical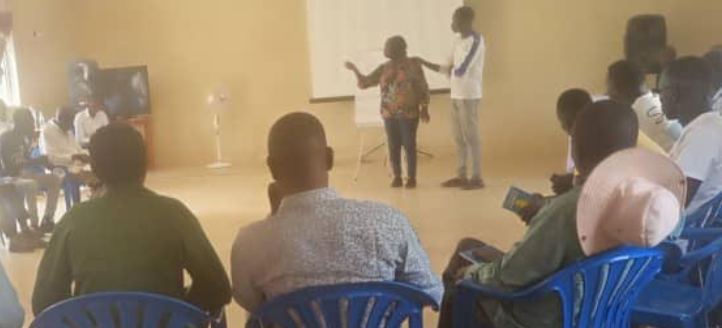 The Eastern Equatoria State minister of information and communication, Elia John Ahaji, over the weekend, called on journalists and artistes to follow ethics when delivering messages.
According to the official, most social media practitioners and artistes lack professionalism and warned that anyone found spreading hate speech will be dealt with legally.
Alhaji made the call during the closure of a five-day media and arts boot camp organized by "I am Peace South Sudan" which was attended by over 30 participants who were equipped with skills in non-violent approaches, elections, and elections processes.
"As we are now entering a difficult moment in the history of our country, people are sharing a lot of propaganda in the media. Please do not rush to share what you have not verified. It will backfire so let us verify information because we want Eastern Equatoria to always be an exemplary state at all levels," he said. "So, the law is going to hold whoever is sharing those things accountable."
For her part, Magret Idwa Okuye, the Eastern Equatoria State minister of culture, youth, and sports, reiterated the call for media practitioners and artistes to deliver the right information ahead of the 2024 elections.
"There is freedom but that freedom should always be expressed responsibly. Music is another mode of passing information and messages," she said. "In South Sudan, we are still learning about freedom of expression so let us take it slowly."
Meanwhile, Paula Itoo Okuye, the country director for I am Peace Africa, said the capacity of journalists and musicians to deliver messages needs to be improved.
"We have really shared a lot and have even come up with a platform called Torit Post where journalists will be writing stories about what is happening in the state and post them online," she said. "There are a lot of things that we think as media and musicians, need to be done. Also, the government has to cooperate with such groups so that you can also hear and understand their pleas."
Opiny James Clement, the chairperson of the Eastern Equatoria State Union of Journalists, commended the government for creating a conducive environment for journalists to work.
"The training was successful and I also appreciate the initiative taken by I am Peace to at least offer this training for journalists, artistes, and comedians. I would like also to appeal to all the journalists in Eastern Equatoria State to follow ethics and maintain a professional way of doing things," he said. "The situation of Journalists generally in the State is very good but most of them need to be trained. I am appealing to the government to help Journalists with recorders, cameras, and laptops."