Dutch-born internationally acclaimed kickboxer visits home country South Sudan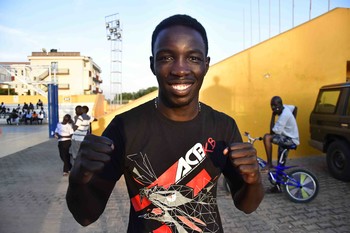 A Dutch-born South Sudanese professional kickboxer says it is time for South Sudanese to focus on development in all areas especially sports.
23-year-old Lofogo Sarour has won two international titles and five European titles since he first appeared in the ring at the age of 17.
Sarour who is in Juba, South Sudan said he came to visit family as well as participate in sports and the peace process in the country. He also received South Sudanese nationality documents.
"We are fighters from within, now it's our moment to join forces to help each other. Because now is a time. We have had enough already, we have been through a lot. So now it's time to develop," he urged.
The kickboxing champion arrived Juba after winning the -67 KG tournament in China last month.
Sarour fell in love with kickboxing at the age of 14, after he practiced martial arts since the age of 6. He was born and raised in The Hague, Netherlands.