Dr. John Garang University receives new laboratory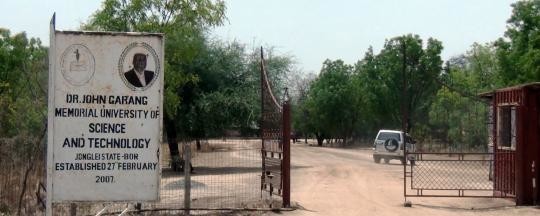 The Dr. John Garang University of Science and Technology in the Jonglei State capital, Bor town, has received a fully equipped laboratory for its science-based faculties.
The lab was denoted by the Science, Technology, Engineering, and Mathematics (STEM) education program last week.
The university's Vice-Chancellor, Prof. Abraham Matoc Dhal, told Radio Tamazuj Tuesday that the institution was run without a standard lab since its inception in 2008.
He pointed out the support will help improve science and technology in the country.
"The STEM last week brought lab equipment and furniture. Now, the installation process is ongoing. This is wonderful news because the university has been operational without a standard. The support will contribute to the advancement of science and technology in the country," Prof Matoc said.
He added, "Also, six of my staff from the science faculties have been trained to run the lab. Now, we also have electricity for 24 hours because STEM has installed 64 solar panels, 36 batteries, and 30 desktop computers for the internet."
Several students welcomed the news about the new lab.
A student in his fourth year, Ayuen Garang, said: "For us in the department of physics and mathematics, it has been very difficult to study without a lab. The only thing we could do was to go online and see tutorials on reactions. I will be very happy to get back to the university and see a lab. "
For his part, Ajith Solomon Awan, the university students' guild president, welcomed the initiative, saying it will help boost learning at the institution.
Dr. John Garang University is one of the public universities in the country. The other learning institutions are Juba University, Upper Nile University, Bahr el Ghazal University, and Rumbek University.