UPPER NILE/JUBA -
16 May 2022
DPOC workers' strike suspended as talks continue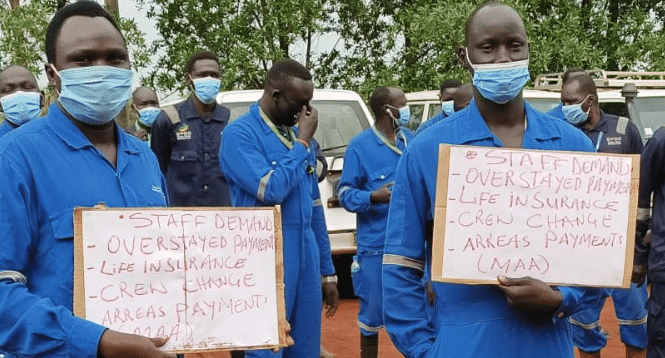 Oil workers at a past strike. (Photo: courtesy)
The national staff employed by the Dar Petroleum Operating Company (DPOC) have suspended their strike after negotiations started on their demands.
The national staff staged a strike recently to demand the immediate implementation of the Unified Human Resources Policy Manual (UHRPM 2020). 
On 22 February, South Sudan's petroleum ministry and the oil sector's joint operating companies signed a deal to harmonize and implement a unified human resource policy manual. Oil sector workers have in the last couple of years been intermittently laying down tools to protest what they termed unfair variances in pay between local and foreign workers yet they do the same work.
On 4 April, the DPOC National Staff (DNS), wrote a letter titled 'Notice for industrial action on non-implementation of UHRPM-2020 by DPOC and its shareholders' to the company president, Hisham Basar, and copied the petroleum minister Puot Kang Chol, other petroleum ministry and DPOC officials.
The DAR Petroleum Operating Company (DPOC) runs oil blocks in Upper Nile State.
"The company has started negotiating with the Ministry of Petroleum. So the ministry has requested that they need ample time to discuss details of how to implement the policy," an employee who preferred anonymity, told Radio Tamazuj on Friday.
According to the employee, the national staff at DPOC decided to call off the strike until 20 May to give the ministry and the oil company ample time to finalize their discussion.
"We are waiting for their discussion, and we heard they had a meeting on Thursday, so we will see what will happen. We called off the strike on 6 May," he said. "If there is no solution after 20 May, the national staff will sit and agree on the way forward."
For his part, Awow Daniel Chuang, the Undersecretary of the Ministry of Petroleum confirmed that the national staff at DPOC had suspended their strike action, saying talks over pay are continuing.
"We are currently engaging the partners and we are almost finalizing the issue. I can say 90% of the problems have been resolved. So what is left now is one thing related to the incentives of the foreign employees, because we have already resolved the issue of South Sudanese workers. Hopefully, the final issue will be resolved soon," Awou told Radio Tamazuj.