Document: Implementation Modalities for Security Arrangements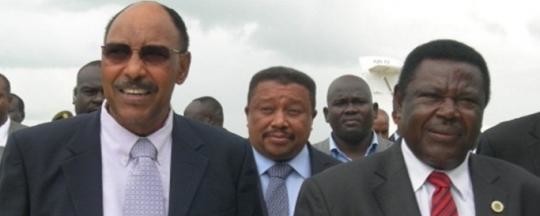 The defense ministers of Sudan and South Sudan agreed yesterday on a plan to carry out the security agreement signed last September, apparently putting back on track the package of deals that would give a green light to oil production that was halted in early 2012.
Abdelrahim Mohamed Hussein and John Kuon Nyuon, representing Sudan and South Sudan respectively, co-chaired in the Ethiopian capital an extraordinary meeting of the Joint Political and Security Mechanism (JPSM), a committee mediated by the African Union High Panel.
They agreed during this meeting on a document of Implementation Modalities for Security Agreements. The document contains a 'matrix' of steps that each side needs to take within a given timeframe, including withdrawal from disputed areas and activation of joint monitoring forces.
African Union chairperson Nkosazana Dlamini Zuma welcomed the deal affirming, "The signing of the Implementation Modalities removes the sole remaining obstacle to the full implementation of the nine Agreements signed by the two Presidents in September 2012."
"The Chairperson looks forward to the convening, on 10 March 2013, of the Lead Negotiating Panel (LNP), to consider the implementation matrix prepared by the AUHIP for the implementation of all the agreement," she added.
Confirming the upcoming meeting of this panel, South Sudan's chief negotiator Pag'an Amum told press in Juba on Friday evening that he would fly to Addis Ababa to discuss the timeframe for the other eight agreements, including resumption of oil production.
A sign of the continuing severe problems facing both governments in adhering to this agreement, however, the document also contained a long list of unresolved complaints and allegations by each side against the other, including bombings, attacks and support to rebels.
File photo: Abdelrahim Hussein, Sudan's defense minister (left) and Alison Manani Magaya, South Sudan's interior minister (right) at Juba Airport on 5 November 2012 (Juba Post).