JUBA/CANADA -
29 Apr 2018
Doctor: Kiir 'medically unfit' to be president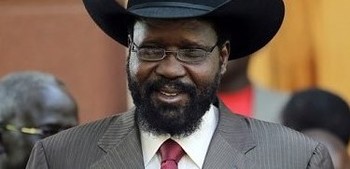 File photo: President Salva Kiir
Salva Kiir is "medically unfit" to be president of South Sudan, Dr. Mawien Akot who said he is working as a consultant physician at the presidential medical unit said during a Facebook Live video from Canada.
"The president is not in his mental capacity, and he is not in his physical capacity to rule the country," Mr Mawien said of President Kiir on Friday.
"In the next one month or two months, I might be going back to Juba. I will go to my position as a consultant physician, and what I say I am the one responsible for it. Even if they will kill me, I know I will die for my country," he said.
"I am a Canadian trained physician. I cannot disclose the real information about somebody whether he is in sound mind or not. But what I can tell you is that the leadership in South Sudan in the next six months, you will hear a lot of things happening, without mentioning names," he added.
President Kiir's spokesman Ateny Wek Ateny said in a statement to Radio Tamazuj this morning that the country's president is in good health, pointing out that Dr Mawien was telling lies from Canada.
"The President is fit and healthy to continue to lead this nation to normalcy, elections and beyond," Ateny said.
The presidential spokesman said Mawien Akot has never attended to President Kiir's health, pointing out that Mawien was not part of the presidential health unit. Ateny said Dr. Mawien was working at Juba Teaching Hospital.
According the country's constitution of 2011, the President can be removed on the grounds of mental infirmity or physical incapacity based on a report submitted to the parliament by a medical board consisting of five qualified and eminent specialists from the Medical Commission in respect of the alleged infirmity or incapacity.
The President, according to the supreme law of the land, is required to submit himself or herself to the medical board for necessary examination as required, and if the medical board determines that the President, by reason of mental infirmity or physical incapacity is unable to perform the functions of the office of the President, it shall communicate its findings to the parliament for information, and he or she shall be deemed to have forfeited the office.