Displaced residents in Bentiu welcome peace revitalization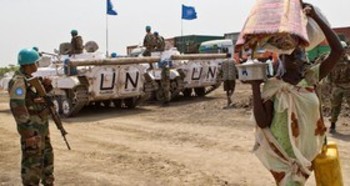 File photo: UNMISS peacekeepers at a base in Bentiu in January 2014 (Courtesy photo/Radio Tamazuj)
South Sudanese residents living in displaced camps under UN protection in Bentiu town have welcomed the revitalization process on the implementation of the peace agreement of August 2015.
Yohannes Gatnyang, camp leader at the UN base in Bentiu town, told Radio Tamazuj ON Tuesday that they were happy because the East African regional bloc IGAD is preparing to launch the revitalisation forum with the participation.
He pointed out that the internally displaced persons called on the international community to involve the government, the armed groups and opposition forces in a bid to end the four-year crisis in the country.
Members of the Troika (Norway, the United Kingdom and the United States) have recently threated to identify and hold responsible those who are blocking peace efforts in the country.