Good News Radio director released after hours in detention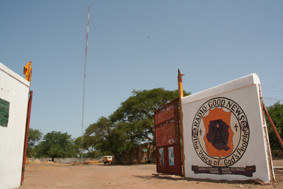 Marial Deng, the director of Good News Radio, an affiliate of the Catholic Radio Network (CRN) was released on Wednesday evening after spending hours in detention.
According to CRN's Director Mary Ajith, Deng was taken from the radio premises on Wednesday by national security agents over accusations of interviewing former Western Lakes State governor John Deng Mamer.
She told Radio Tamazuj that Deng was taken in at 2 PM and spent four hours in detention.
"The national security guys picked him up from the radio station compound together with the news editor. But then the news editor was asked to come back and Marial was put in," she said.
Ajith explained, "They were told that Radio Good News should never do any program without permission from security. All the programs of the radio have to be screened by the security before they go on air."

However, Ajith said the former governor's interview was in line with journalistic ethics, allowing an accused person to respond to accusations leveled against them.
John Wullu, the head of Greater Lakes Journalists Association, confirmed the incident and condemned the detention of Deng saying there are laws to be followed when journalists are seen to be in the wrong.
He said he has informed the media authority in the country to look into the matter saying about three journalists have been arrested in Rumbek this year alone.
On Wednesday CRN called for the immediate release of Deng.